Mohammed Bin Rashid Housing Establishment and Union Coop Bring Happiness to Orphans with "Back to School" Initiative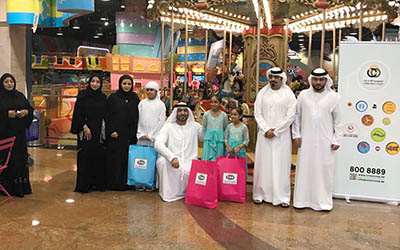 Mohammed Bin Rashid Housing Establishment, in Cooperation with Union Coop in Dubai, launched the "Back to School" initiative, which aims at distributing stationary and school supplies among orphans with limited income at the Establishment. The distribution was carried out at the Union Coop premises in Etihad Mall with representatives from both sides attending. This initiative seeks to bring happiness and joy to orphans and their families and provide them with a decent life.
Haitham Al Khaja, Senior Manager of the Corporate Communications and Marketing Office at Mohammed Bin Rashid Housing Establishment, said: "Back to School is part of the Establishment's initiatives for the Year of Giving, and is one of many such initiatives for providing care to orphans. He added that this is based on the Establishment's commitment to making orphans and their families happy in order to strengthen solidarity culture among all segments in society and providing care and all forms of support to orphans.
Al Khaja also underlined the efforts of Union Coop in Dubai in supporting programs for orphans and cheering them up, which seeks to show solidarity with them and encourage them to face life so that they can become good people and serve their country.
For his part, Suhail Al Bastaki, Director of the Happiness and Marketing Department at Union Coop, said that sponsoring orphans and caring for them is at the core of Union Coop's priorities, as it has launched many programs and initiatives to care for and sponsor orphans from the UAE who lost their parents and are not yet of legal age.
Image caption:
– during event .
---