Union Coop Spends AED 15 Million on Local Products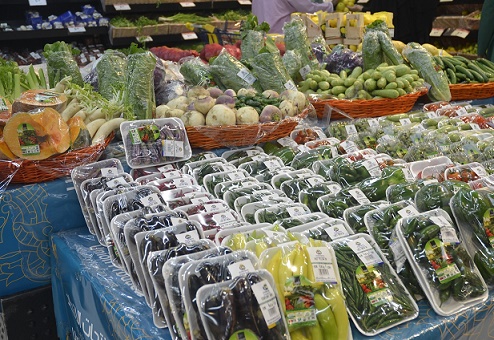 Prepared by Marwan Alquran
Photographer : Marwan Alquran
Dubai, United Arab Emirates, 29 October 2017:
Union Coop, the largest cooperative in the UAE revealed an enormous AED 15 million and 931 thousand in local product purchases from the beginning of the year up to the end of the third quarter. This asserts the Union Coop's keenness to support local farmers and producers to contribute in building a sustainable environment and achieve self-sufficiency.
"Union Coop's purchase of fresh local products are very high in comparison to other competitors," Said Mr. Yaqoob Mohammad Yousif Fresh Category Trade manger,. Union Coop has purchased 953 tons from organic farms equivalent to AED 9.226 million. While ordinary farm products reached 552 thousand tons corresponding to AED 1.598 million. As for aquaculture products, Union Coop purchased around 718 tons for AED 4.781 million, in addition to 45 tons of fish farm products for AED 325,000,"
"Union Coop offers greast facilitations to local farms to promote sustainable agriculture, while contributing to the establishment of a sustainable food security. Union Coop is currently cooperating with40 various farms, including 17 organic farms, 15 ordinary farms, 1 fish farm and a huge number of aquaculture farms due to their positive benefits including the rationalization of water consumption." Added Al Balushi.
Al Balushi also confirmed: "Union Coop's interest in supporting and marketing national agricultural products stems from its love to the UAE and keenness to contribute to the safety and sustainability of local production. It is also keen to support and develop the farmers' society, promote their products, provide display areas in its outlets to increase their profits. Union Coop also strives to encourage farmers to raise their contribution in national product. Since its establishment in 2009 as the first Emirati outlet, Union Coop is still the sole outlet for aquaculture products in the UAE."
Al Balushi then commented on the facilitations provided by the Union, stating: "We are working to facilitate procedures and contracts with aquaculture producers, give them purchase priority, execute payments faster than other suppliers along with free display areas. Moreover, the Zaarie Programme provides a package of features and facilitations to enable farmers to continue production and compete with foreign products. Thanks to the Zaarie Programme, foreign products have no advantage over local products.
---