Union Coop discusses Investment Prospects with the Republic of South Sudan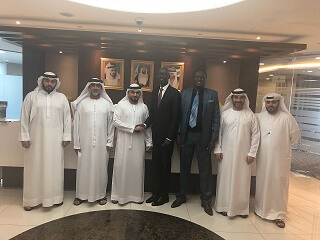 Prepared By: Benoi Nair
Photographer : Source
Officials from Union Coop met with the Commercial Investment Commissioner of 'Republic of South Sudan' to discuss investment opportunities
Wednesday, 18 June 2018 – Dubai (UAE):
Union Coop, UAE's retail pioneer recently met with the Commercial Investment Commissioner of the Republic of South Sudan, to discuss ways of improving trade exchange and creating new investment opportunities in various agriculture products of Vegetables, Fruits and various foodstuffs. The meeting was organized by Department of Economic Development, Dubai.
The meeting was attended by Mr. Yaqoob Al Balooshi, Fresh Category Trade Dept. Manager, Mr. Ayoub Mohammed, Sr. Area Manager, and Ahmad Almarzooqi from Union Coop and a number of Managers from DED.
Speaking about the meeting, Al Balooshi said, "An official invitation has been extended to us, to visit the Republic of South Sudan, to explore various commercial sectors and achieve tangible results on the quality of products and prices accordingly."
---