Charitable Funds Accumulates AED 39 Million in Union Coop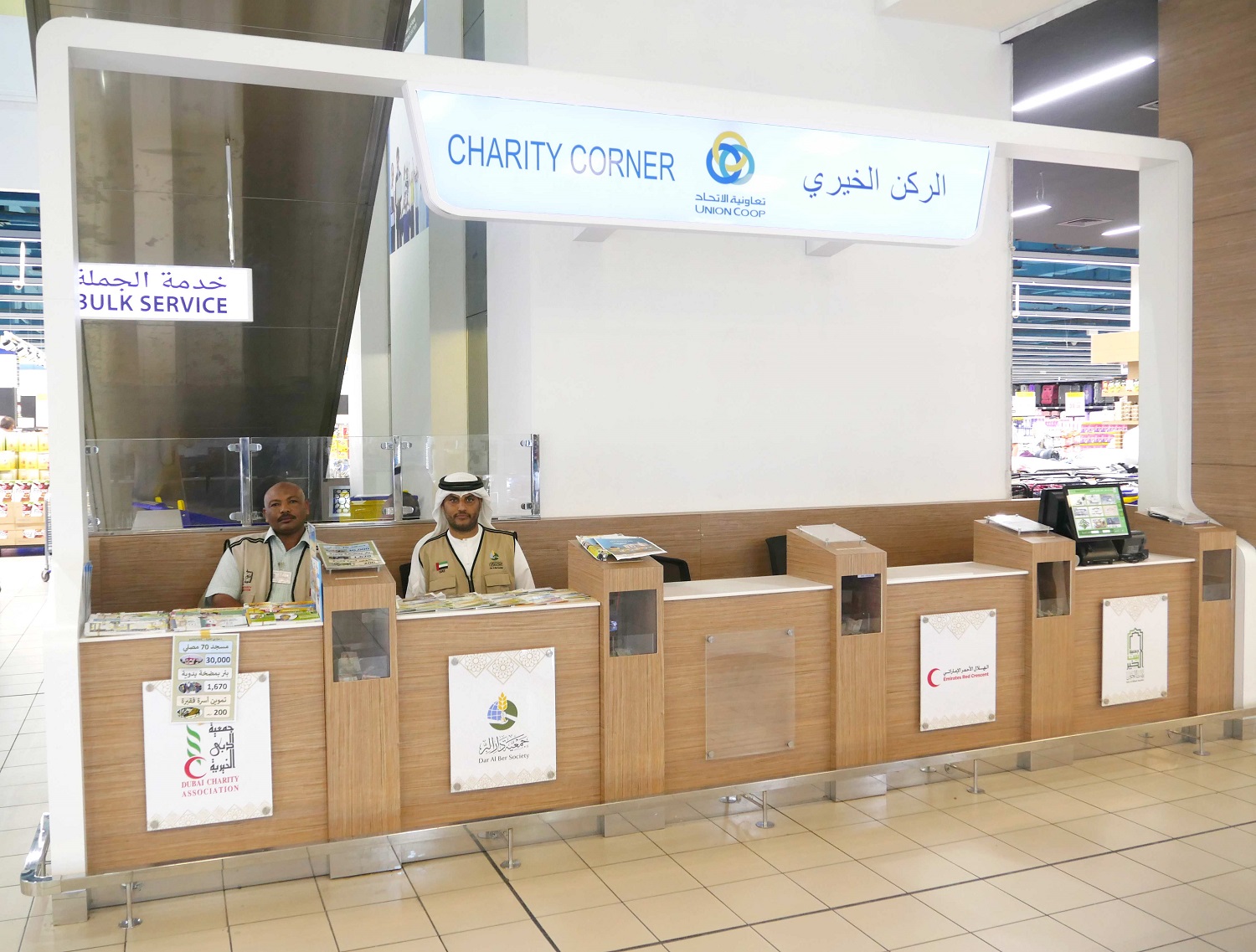 Prepared By: Benoi Nair
Photographer : Sultan Almarzooqi
The largest Consumer Cooperative has been popular for providing space to Charities and Voluntary organizations within its premises
April 8th, 2018 – Dubai, UAE
Union Coop – the largest Consumer Cooperative in the Emirate recently revealed that Charitable foundations and funds within its premises were able to collect around AED 39, 178, 539 in 2017. Union Coop has been known for offering free spaces to Charities and Trusts within its properties, with respect to the great leader's vision for community welfare.
Speaking about Union Coop's vision on charity and communal welfare, H.E. Khalid Humaid Bin Diban Al Falasi, CEO of Union Coop said, "We support several Charitable Institutions and Welfare Programs in many ways, one of which includes offering them spaces to set-up 'donation desks'. Other vital contributions include construction of Al Etihad Mosque in Al Barsha and the launch of 'one of its kind' endowment retail chain concept in the Middle East by the name of 'Fresh'n 1'."
He further said, "Philanthropy is one of the core values based on which Union Coop thrives and functions. The same can be viewed in many of its social campaigns and initiatives oriented towards community welfare."
Notable improvement of AED 17.4 Million
Al Falasi quotes, "Charity is one of the sacred pillars of Islam and with our intensified efforts have tried to propel it. As a result, we saw an improvement of AED 17, 428, 254 compared to year 2016's figure of AED 21, 750, 285. With these improvements, we worked very closely to the vision of H.H. Sheikh Khalifa bin Zayed Al Nahyan the President of the UAE, who at the time announced 2017 to be the year of giving."
"There are 5 different charity corners having their dedicated spaces and customized kiosks within the Union Coop premises – the Dubai Charity Association, Beit Al Khair Society, Awqaf & Minors Affairs Foundation, Red Crescent Society of the United Arab Emirates and Dar al Ber Society. Social responsibility is one of our most important strategic goals and We believe in supporting and developing the community with our services, as integral development of the society leads to success and prosperity of the entire nation," said Al Falasi.
"Union Coop supports these institutions by not only providing them free space but a strong platform to accumulate donations through our branches scattered all over Dubai. By supporting the development of these sectors, we look forward to contributing to our nation's social and economic goals as well."
---