Smart Government Program "Applications"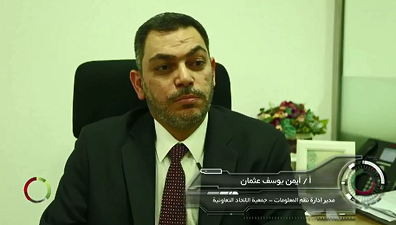 The Arabian Media Network has executed and presented a reactive TV program, observing the steps of transformation of U. A. E. Government towards a comprehensive smart government and its appendices. The introduction of program started with a part of applications in an introduction about the Society: "Union Coop did not fail to cope with the drive of modernity and renovation. It was able to render smart services, through which it gave benefits to the shoppers , by presenting a group of smart programs, The interview with Mr. Aiman Yousef , Information Technology Department Manager in Union Society", and the episode dealt with the most important programs issued by Cooperative Union Society.
In his speech, Mr.Aiman Yousef, Information Technology Department Manager indicated:
That the initiatives of Top Management of Union Coop included development of the services rendered to its customer s, which falls under responsibility assumed by the Society to exceed the consumer satisfaction phase, and move towards making the customer happy, whereas two development programs have been created. The first program: Shopper Valet service is one of unique smart services rendered by Union Coop, where Shopper Valet employee will accompany with a smart handcart. The Shopper Valet employee will help him / her buy his / her needs, read the products' prices by using the smart devices and programs, which are available during his Shopping trip. Shopper Valet will escort the Customers for issuing the bill of purchases and the customer will pay the bill amount without passing the Cashier, to complete the process of shopping successfully.
The second program: The smart application of the Union Coop, which is powerful and integrated application in mobile phone, the application will works with indoor location technologies like Wi-Fi . Where it will be available for free for all Iphone and android app users. Registration in the app is made through Tamayaz loyalty card, so the customer will have all services, such as enquiry about the points gained by the card holder, and list of products purchased, and their value, and from which branch of Union Coop, in addition to the service of possibility to make a plan of electronic future purchases list. The customer may also know availability of required commodity in that branch, in addition to view of current promotion offers. He also added that the program will guarantee other development phases, including possibility to know the places of commodities inside the branch through a map that defines the locations, in order to facilitate the purchase process. These programs come to cope with the most up-to-date development in technology at the local level.
---