Union Coop Inaugurates Consumer Happiness Center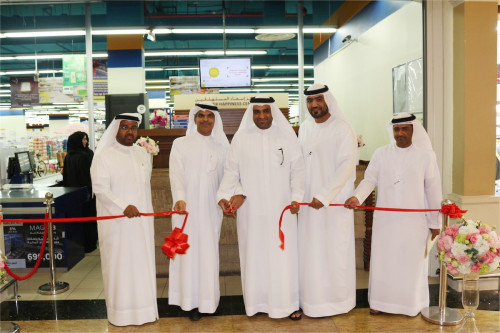 The Corporate Commercial Compliance and Consumer Protection Sector at the Department of Economic Development (DED) inaugurated the Consumer Happiness Center at the Union Coop branch in Etihad Mall. As the first of its kind in the hypermarket sector, the Center aims at strengthening the relationship with consumers by receiving and resolving complaints amicably in the stores before they reach Dubai Economy via the Ahlan Dubai service (+971 600545555).
TPrepared by Marwan Alquran
Photographer : Sultan Almarzooqi
This initiative seeks to bolster consumer protection practices and resolve complaints before they reach DED, which would contribute to consumer happiness, achieve the best results, and support the governmental work model in Dubai which focuses in spreading happiness and positivity in providing services.
The introduction of Consumer Happiness Centers in the private sector follows the criteria set by DED, which are as follows: availability of Arabic and English-speaking representatives to receive consumer complaints, displaying the Dubai consumer protection logo clearly along with the complaints hotline (Ahlan Dubai service, +971 600545555), and a guide outlining the mechanism for filing a complaint.
The Consumer Happiness Center at the Union Coop in Etihad Mall was inaugurated by a delegation from Dubai Economy headed by Mohammad Ali Rashed Lootah, Executive Director of the Commercial Compliance and Consumer Protection (CCCP) sector in DED. The delegation also included Harib Mohammed bin Thani, Director of Operation Division, Suhail Al Bastaki, Director of Happiness and Marketing Department at Union Coop, and Mohammed Berregad, Director of Administrative Affairs Department, and along with officials from both entities.
Mohammad Ali Rashed Lootah said that the strategy of Dubai Economy is based on enforcing the concepts of client happiness in cooperation with the private sector. This falls within the framework of the government's directives for bolstering Dubai's position as an ideal destination for all shoppers.
"It is our pleasure to inaugurate the Consumer Happiness Center in the hypermarket sector in cooperation with Union Coop," Lootah said. "The hypermarket sector plays a vital role in strengthening and organizing relations between retailers and consumers on the level of major retail outlets by resolving many complaints amicably without imposing any obligations or fines on retailers, which bolsters Dubai's position as an economic pole and a pioneer in commercial transactions and business in the Middle East and the world."
He also explained that this will be followed by opening more Consumer Happiness Centers in other Union Coop branches in Dubai in 2017 and 2018. "At Dubai Economy we seek to raise the quality and standards of consumer protection with these centers to help us realize higher consumer levels of client satisfaction. Ultimately, these Centers will help reducing the total number of complaints received by the communication center at Dubai Economy.
For his part, Suhail Al Bastaki noted that introducing the Center is a step towards shifting from consumer satisfaction towards consumer happiness. "Union Coop follows world-class strategies and practices to realize consumer happiness that employ high-quality programs, activities, events, promotional campaigns, discounts, and more," he explained. "At Union Coop, we are striving to live up to our promise to provide the best services."
Concluding, Al Bastaki explained that Client service centers in the Coop branches will be replaced by Consumer Happiness Centers in the upcoming stage, which will cover 13 branches in Dubai. This will constitute a quantum leap in receiving consumer feedback and complaints and responding to them in record time.
---