"Union Coop" implements 74 initiatives and 6 programs, at a cost of 80 million dirhams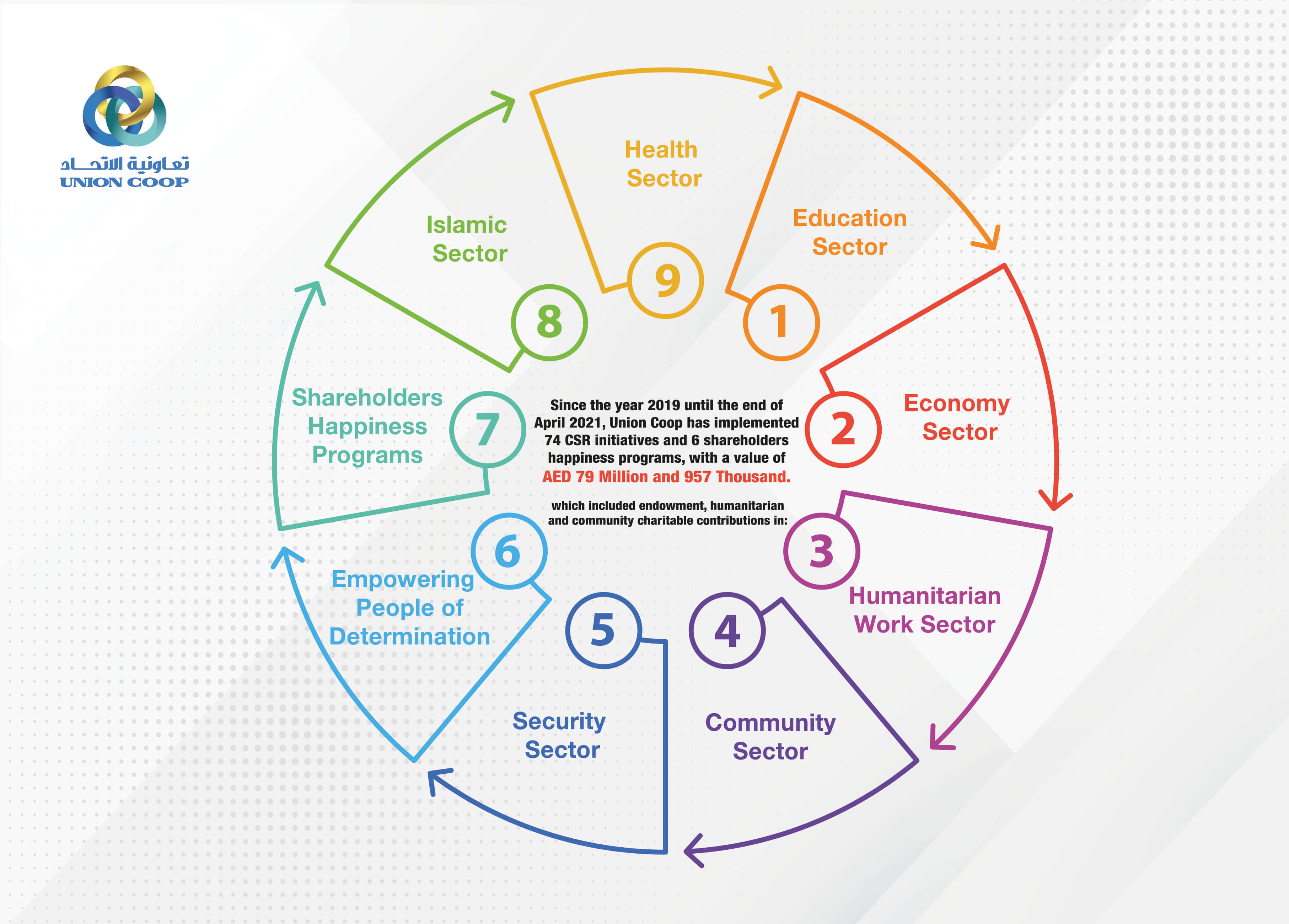 Translated By: Benoi Nair
Source: AlKhaleej
Union Coop as a private entity has been involved in multiple Corporate Social Responsibility initiatives every year
Dubai, UAE:
Union Coop, the largest consumer cooperative in the UAE since the year 2019 until the end of April 2021, has implemented 74 CSR initiatives and 6 shareholder happiness programs, with a value of AED 79 Million and 957 Thousand, which included endowment, humanitarian and community charitable contributions in the education sector, economy, humanitarian work Social, security, empowering people of determination, shareholder happiness programs, the Islamic sector and the health sector, where a package of subsidies worth AED 24 Million 860 Thousand was spent. It is consistent with the efforts of the Dubai government to limit the spread of the Coronavirus since the beginning of the pandemic.
For his part, Dr. Suhail Al Bastaki, Happiness & Marketing Director, Union Coop affirmed:- "Union Coop's keenness and commitment of supporting all initiatives and programs launched by the Dubai government in various scientific, social, humanitarian, economic and security fields based on the noble values ​​inherited from the late Sheikh Zayed bin Sultan Al Nahyan (May Allah Rest His Soul), the founding father of the United Arab Emirates, towards the community of the United Arab Emirates, which raises social responsibility and the spirit of solidarity and cooperation between members of society and its institutions, as well as based on the social responsibility of Union Coop towards the homeland and society, which it has adopted since its launch in the year 1984."
He added: – "Union Coop as a national economic entity contributes to achieving an effective societal contribution with realistic goals, the result of which serve the aspirations of the wise leadership," pointing out that Union Coop takes its CSR work seriously and has become a role model for other private institutions in the same field.
It is worth noting that Union Coop received the 'Dubai Endowment Sign' from The Mohammed Bin Rashid Global Centre for Endowment Consultancy (MBRGCEC), operating under the umbrella of Awqaf and Minors Affairs Foundation (AMAF), in appreciation of the endowment and humanitarian initiatives it provided to the community, and its charitable contributions in meeting social needs within the various educational, health, economic and other sectors, which is in line with Dubai Global Vision for endowments launched by H.H. Sheikh Mohammed bin Rashid Al Maktoum, the Vice President and Prime Minister of the UAE, and ruler of Dubai. Moreover, for eight years in a row Union Coop was awarded the Dubai Chamber Corporate Social Responsibility (CSR) Label in recognition of its distinct and tangible efforts in the field of corporate social responsibility and commitment of developing responsible practices and for its role in supporting vital sectors through participation and organization of community and environmental initiatives and activities.
---