Umm Al Quwain Coop offers Stock worth 2.5 Million – Open for Public Trade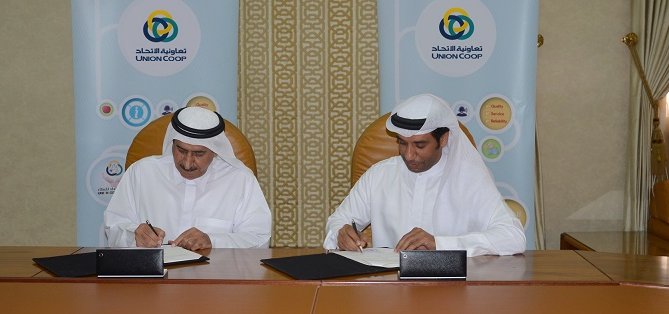 Umm Al Quwain Coop announces 2.5 million stocks for public trade, to increase investment in its retail sector. An integral part of Union Coop – UAE's largest consumer cooperative, Umm Al Quwain Coop will start Initial Public Offering from January 21 onwards until February 8. The Public will be able to purchase these stocks through selective Emirates Islamic branches across the United Arab Emirates.
Preparation and photography :
Marwan Alquran
Wednesday, 17th January 2018 – Dubai, U.A.E
H.E. Chairman of the Board of Umm Al Quwain Coop, Mr Nasser Al Talay quoted, "The main objective of offering stocks for public trade is to increase capital to invest, implement future plans and expand current services offered by UAQ Coop. Ultimately, this is will allow us to serve the consumers better by offering them the best service at competitive prices."
He further adds- "Umm Al Quwain Coop's primary objective is to benefit the citizens and residents by offering world-class products and services under the same roof. We wish to take care of society's needs and offer our support to social sector in a manner that honors the vision of the leadership.
Mr Nasser Al Talay said- "Citizens from all the Emirates will be able to purchase the stocks. This will create an opportunity for sustainable and guaranteed investment opportunities with considerable positive aspects, as the value of the stocks which is AED 50 million will contribute to the development and expansion of the Coop and support its future plans.
The Chairman of the Board of Directors at Union Coop, H.E. Mr Majid Hamad Rahmah Al Shamsi said, "Union Coop has always had the expertise and world-class resources when it comes to retail and managing Coops. Our experience with managing 'Ajman Markets Cooperative Society' was a success, in which all the goals and objectives were achieved in record time. Our success in the form of market expansions and marketing achievements is the true testament to our strength in the Emirati market."
He further adds, "We will deploy all of our resources to cooperate and move ahead with the management of Umm Al Quwain Coop, in implementing best-in-class practices and technologies in retail. Initially, we will be focusing on offering the best services at competitive prices to the people of Umm Al Quwain Emirate and neighboring areas"
Citizens can purchase stocks via the following Emirates Islamic branches: Umm Al Quwain King Faisal Street branch. In Dubai at Festival City, Nad Al Hammar, Etihad Mall, and Al Barsha Mall branches. In Sharjah at the Muwaileh branch. In Ras Al Khaimah at the Montaser Road branch. In Fujairah at the Hamad bin Abdulla Road branch. The minimum limit for purchase is 500 stocks, in addition to a premium of AED 1 per share provided by an approved bank check or opening an account at the Islamic Emirates Bank.
Earlier this year Umm Al Quwain Coop, managed by Union Coop, revealed a future project that will see multiple series of Umm Al Quwain Coop Markets. The signed Memo of Understanding reads managing and operating Umm Al Quwain Coop for 7 years with the prospect of renewal, with an estimated overall budget of AED 50 million. This project will cover an area of 80,000 square meters in Salma area consisting of a ground floor, first floor, and second floor.
---
---