Annual gathering for employees 2013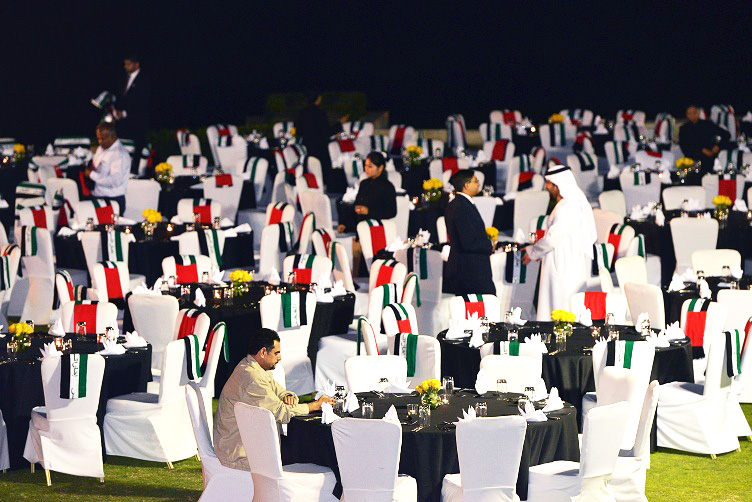 In the framework of Union Cooperative Society intense to provide its employees with the ideal working environment that impose the values of excellence and the motivation to double efforts and contributions, believing that social cohesion is one of the non-financial strongest incentives for the development progress in any organization.
A Special dinner invitation was honorably hosted by Union Co-operative society where all Managers' Executives and esteemed Employees of Union Co-operative society were delightfully invited to attend this party dinner. This Special event was held on Tuesday 26 /11/2013 in one of the Premier 5 star Intercontinental Hotel Groups in Dubai Festival City " Al Badia Golf Club"
The Invitation party was pleasurably commenced by Mr. Khalid Humaid Bin Diban Al Falasi, the General Manager of Union Co-operative Society with his opening speech showing appreciation to all guests who have taken the time to attend the event, and proudly indicating the role played by the Union Co-op management in overcoming all the obstacles and challenges, and accomplishing a set of leading goals and desired achievements in 2013, In addition to the outstanding performance of the branches.
This dinner event was not just an ordinary invitation, but also an aspect of communication and motivation to attain more success and accomplishments, in which the dinner was turned into a fun awards event, were prizes were given to the winners of a friendly competition hosted by the Management Team.
Following the enjoyable feeling that met the interest and fun together, all guests were entertained by a special poem under the name "In Love with UAE", and then went to enjoy the tempting international cuisines and local delicious meals, which was prepared in the honor of the distinguished guests.
---