Let's Bake… a Chocolate Mousse Cake!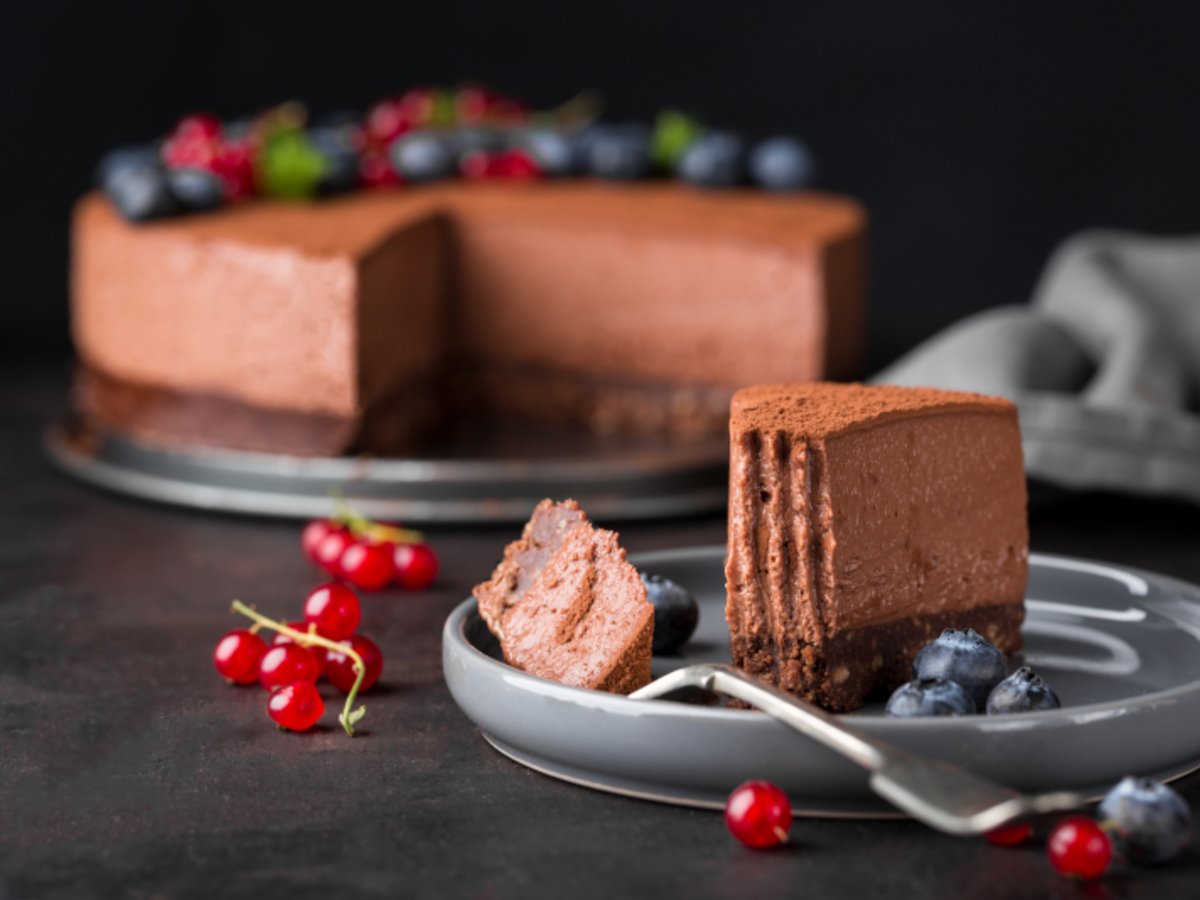 People with a serious sweet tooth will love this blog. If you have a palate for cakes and puddings then you might have heard the name 'Chocolate Mousse Cake' and it does deserve the honorable mention!
Anything that has chocolate in it becomes magically automatically… even 'chia pudding'
The hypnotic cake oozes chocolate mousse accompanied by fresh raspberries/strawberries, then iced with rich Choco frosting. With four mouthwatering layers waiting to be devoured, Chocolate Mousse Cake my friend is a diet-killer but worth every time spent baking it.
What you need? (Ingredients)
Vegetable Oil (100 g)
Eggs (3 Large)
Greek Yoghurt (220 g)
Granulated sugar (1-2 cups)
Salt (1 teaspoon)
Baking Soda (1 – 2 teaspoons)
Unsweetened Cocoa (80 g)
All-purpose flour (200 g Approx.)
Boiling Water (220 g)
Vanilla Extract (2 teaspoons)
To prepare Filling, you need –
1/8 teaspoon salt
1/2 teaspoon vanilla extract
2/3 cup (113g) semisweet chocolate chips, melted
1-cup (227g) heavy cream
2 pints fresh raspberries/strawberries
2 tablespoons (28g) softened butter
One 8-ounce package (227g) cream cheese
1-cup (110g) confectioners' sugar
1/2 cup (90g) semisweet mini chocolate chips
For Frosting, you will need –
4 cups (454g) confectioners' sugar
1/2 cup (43g) unsweetened cocoa
8 tablespoons (113g) unsalted butter
1/4 cup (Approx. 57g) milk
1/4 teaspoon salt
1-teaspoon vanilla extract
1/2 cup (92g) vegetable shortening
Let's Start: 
First, you need to preheat the oven to approx. 325°F. Then grease 2 8" round pans with thick layers of butter.
Carefully measure your flour in a large mixing bowl and add all the ingredients in the order of – flour, baking powder, baking soda, salt, and sugar, cocoa. No clumps should be there and if you find any then press them through a strainer or a filter.
Mix the Yoghurt, oil, hot water, vanilla in a bowl and then pour them into the dry ingredients that we mixed earlier and then beat them at medium speed for at least 1 minute. Ensure the batter is smooth.
Time to mix the eggs, so we will use one egg at a time to ensure consistency. Mix the batter for another minute.
Divide the batter in the greased pans (from step 1). If you wish to keep the layers of the same size then divide the batter's weight by the number of layers.
Bake until the cake starts to pull away from the edges. Bake for 45 to 50 minutes.
Take the cake out from the oven and place it out on a rack to cool down. After 15-20 minutes, run a knife around the edges of the pan to free the crust and take the cake out of the pan to cool down.
Filling Prep:
In a large mixing bowl, we will mix butter, cream cheese, and 85g of confectioners ' sugar, vanilla extract and salt. Mix it until a smooth paste.
Chocolate chips should be heated properly so that they are melted and smooth. This melted chocolate should be the bowl mixture prepared in step 1.
The remaining confectioners' sugar should be stirred with cream to form a mixture to form soft cream
Add this whipped cream into the cheese mixture that was prepared in Steps 1 & 2. Stir to make a thick sticky mixture. Add the mini chocolate chips if you are using them.
Split the cake horizontally into layers carefully
Place the first layer on a plate (serving plate), spread the filling evenly on the surface, and place the cut raspberries/strawberries over the filling. Repeat the layering process until all the layers are stacked.
Once the cake is layered with the cream mixture and raspberries/strawberries put the cake in the refrigerator to firm up the cake.
Frosting Prep: 
In a large bowl, beat butter and salt
Confectioners' sugar and cocoa should be beaten into the butter mixture along with vanilla. Add milk if you wish to alter the consistency. Beat the mixture until it reaches a fluffy texture.
Now apply this mixture evenly throughout the cake (sides and top) and refrigerate for 20 minutes to set the layer.
Enjoy the amazing cake. If you are tired to do all this at home then visit your nearest Union Coop branch to enjoy freshly baked cake.
If you wish to find all the necessary under a single roof then you need to visit the nearest Union Coop branch, which is one of the most preferred hypermarkets in Dubai. Our check out their online store here.
Enjoy the dessert. Have a recipe to share with us? The COMMENT section is all yours. LIKE this recipe, then SHARE it!