How to make your children comfortable with e-Learning experience?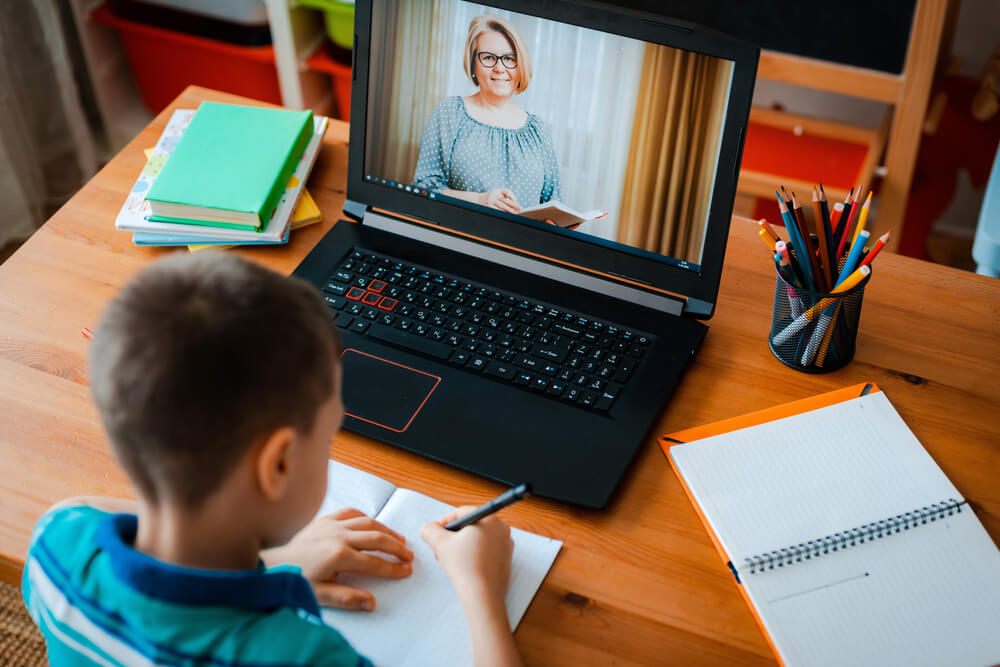 Given the severity of the current situation because of COVID 19 Pandemic, the UAE government is leaving no stone unturned in tackling the pandemic. One of the many sectors that underwent a makeover in the UAE is 'Education' which now enables students to attend their respective classes 'virtually' also known as 'e-learning'. With e-learning extended until the end of the academic year, many families now feel the need for streamlining their children's education as per the current trend. It can be agreed that it is the teacher and school authorities who take the initial responsibility of setting up a virtual classroom, but ultimately it is up to the parents to make their children get comfortable with the new e-learning experience.
Here's what parents can do –
Setting up an inclusive routine: This might be the first time they are studying remotely and even the parent working from home. In order to make this experience functional, it is important to make the sleep cycle as similar to the regular school days. As a parent, you can set alarms for classes, lunch, snack breaks to keep your child active and on track. For a better family experience, parents can synchronize their lunch timings with their children. Watch here.
Establishing a Study Zone: Now let's be honest here, there is a world of difference between 'working in an office environment' and getting the same work done from home. The moment we see the couch, all we can think of is sleep or simply be lazy. Same can be the case with children since the teacher is no longer near. Since many of us have already set-up work areas for ourselves where we are not distracted, it's essential to create a study zone for children as well, to activate their 'study mode'. In order for a study zone to be effective and functional – it has to be soundproof, comfortable and space which is devoid of distractions. Not only this increases the advantage of e-learning, but it gets a parent to know his child better. Watch here.
Technology is the answer: Coordinate with the school authorities of your child to know the best configuration or software specification you need for the e-learning module. This may include checking the internet speed and downloading teleconferencing facilities like Zoom, Google Classroom or any other. Make sure you are downloading this software from the official channel to be on a safe side. To know more about teleconferencing software, click here!
Keeping focus: Studying is not easy, especially when you are in a non-school environment. It's easy for a child to get distracted by constant WhatsApp notifications, TV or any other means. Installing parental apps on phone is a rather good idea and controlling TV time is another important step towards establishing a study-friendly environment.
Goals: Studying without goals is not fruitful. Even though they are studying remotely, as a parent you still need to help them identify their goals and ensure they have the environment to achieve them. Helping them organize their study time and prioritizing will help them define deadlines and set goals. As a parent, this gives you the opportunity of taking interest in their study by having discussions at the end of the day. Even better is adapting a habit of writing things down. Here's a video on 'how to set goals in 4 easy steps'.
Encouraging communication among students and parents: If social distancing and work from home have been hard on you, then it must be even harder for the little ones. Children are used to the social company at school, so to make them feel good, organizing video chats with their friends can be a good way to keep up with things. Here's a video on connecting socially in a time of social distancing.
Appreciating these tough times together: In Such tough times, it is important to follow the instructions of the Government body and concerned authority, and above all, it is essential to be positive and enjoy these moments together as a family. Cheer up by adding activities such as painting, puzzle games or other creative activities that help you grow closer to your child.
Like this blog and Share within your social circle as well. Have something to add, Comment!
Disclaimer – The views, thoughts, and opinions expressed in the blog are for reading purposes only. Parents should seek expert/professional advice in matters related to their children and their wellbeing.