Union Coop Signs MoU with Erada to Raise Awareness on Drug Dangers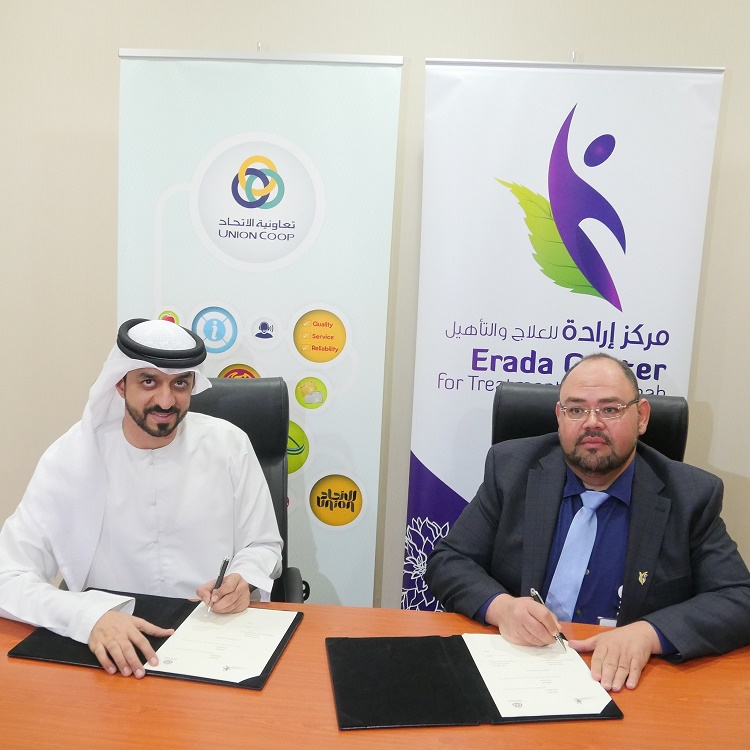 Prepared by Marwan Alquran
Photographer : Sultan Almarzooqi
United Arab Emirates, Dubai, December 19, 2017:
Union Coop, the largest cooperative in the UAE, signed a memorandum of understanding (MoU) with the Erada Centre for Treatment and Rehab (Erada). The new agreement aims at educating the UAE society on the dangers, damages and threats of drugs.
Mr Shuaib Al Hammadi, Marketing Section Manager signed the MoU on behalf of Union Coop, whereas Chief Executive, Dr. Mohammad Fayek signed for the Centre in Etihad Mall with presence of a number of managers and employees from both parties.
Mr Shuaib Al Hammadi stressed that "Supporting Erada stems from the core of Union Coop's strategic objectives, which dedicate great attention to social responsibility in order to raise awareness among the society and contribute in building a first defence line that protects our children from the dangers of drugs,"
"We will support Erada by highlighting its plans, initiatives and programmes that aim to counter drug spread and raise community awareness and spread the initiative spirit to prevent the negative effects of drugs. Union Coop will contribute by spreading awareness and highlighting the topic through media available in all its branches in Dubai," Added Al Hammadi.
Meanwhile, Chief Executive, Dr. Mohammad Fayek said: "Erada's management would like to thank the Union Coop for its initiative, which aims to participating in activating the awareness of our nation's youth on the destructive effects of drugs. This all come in line with the vision of Vice President, Prime Minister and Ruler of Dubai, His Highness Sheikh Mohammed bin Rashid Al Maktoum, to provide a safe environment to enable our youth to embark on a comprehensive development in all areas of life."
Dr. Fayek then concluded stating that Erada's management calls upon every national and civil society institution to follow in Union Coop's steps in order to expand their efforts to raise community awareness about the harmful effects of drugs among youth.
---
---