Ramadan Stay Home Recipe: Classic Umm Ali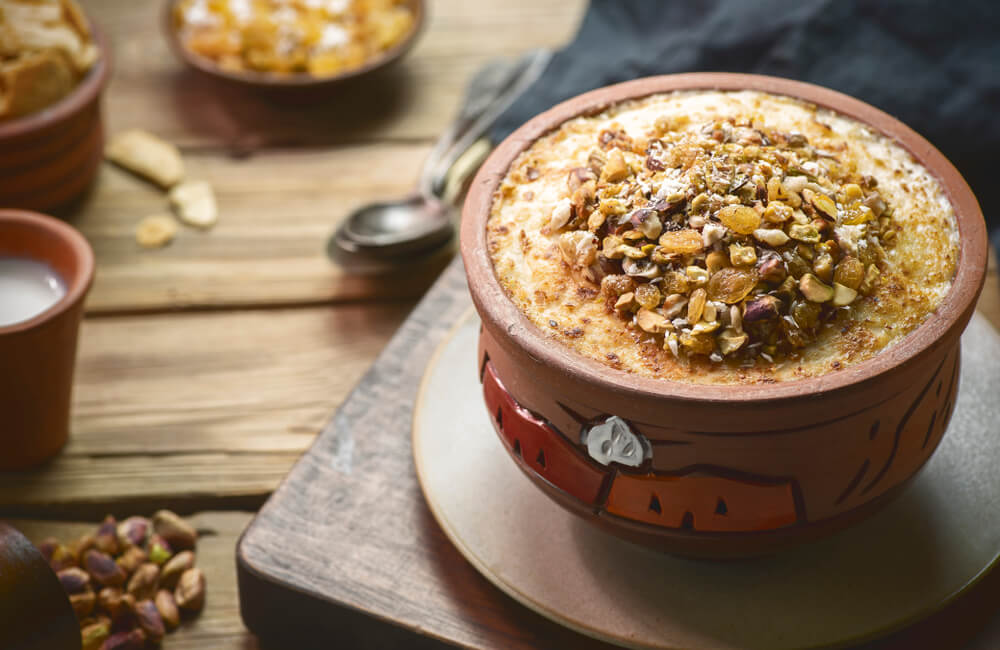 Who doesn't know 'Umm Ali' in the UAE? Often spelled and even pronounced as 'Om Ali', the Egyptian dessert is considered to be a favorite of expats and locals alike. Given the majestic taste… nobody can blame them!
The classic dessert has an unconfirmed story behind its origin, which dates back to the year 1250 (approx.). There was once a sultan in Egypt who had a wife named 'Om Ali', who was not in good terms with her husband's second wife. Om Ali came out as a clear winner of this fight and she distributes this dessert to celebrate her victory. Interesting but dubious.
Whatever the case may be, the real victors were the people who discovered this recipe and have been savoring it after their meal as a signature dessert.
INGREDIENTS
1 pack (square slices) puff pastry
4-5 cups milk
Sugar (As desired)
1 teaspoon(5 ml) vanilla
1 teaspoon (4 grams) cinnamon
1/4 teaspoon(1 gram) cardamom(If desired)
1 envelop powdered whipping cream Or Use half a cup of the milk with half a cup of whipping cream, just add whipping cream in liquid form to enhance the flavor.
125 ml (1/2 cup + 1 tablespoon) double cream
1/4 cup (57 grams) sliced almonds
1/4 cup (57 grams) walnuts
1/4 cup (57 grams) pistachio
1/4 cup (57 grams) sultanas (Special Dried Raisin)
1/4 cup (57 grams) shredded coconuts
PREPARATION
Take the puff pastry out of the freezer 2 hours before use and defrost.
Center your oven rack, heat the oven to 220C.
Place the puff pastry slices on a baking sheet and then place them into the oven for 5-10 minutes (This will make them puffed up and golden brown).
Take them out and let them cool.
In a pot heat the milk, whipped cream powder, sugar and spices. Allow to come to a gentle boil.
Add the vanilla, cream and turn off the heat.
Break the puff pastry into small pieces and place half the amount in a baking dish.
Sprinkle the nuts and coconut.
Top with the other half of puff pastry crumbs.
Slowly add the milk mixture, to the dish with puff pastry and nuts until the milk fully covers the puff pastry.
Allow to rest for 10 minutes, the puff pastry will absorb some of the milk. Add milk again until it soaks the puff pastry.
Bake on the central rack for 15 minutes at 220 C.
Place under the broiler for a couple of minutes to get a golden top.
Enjoy the dessert. Have a recipe to share with us? The comment section is all yours. Like this recipe, then Share it!