Smart government program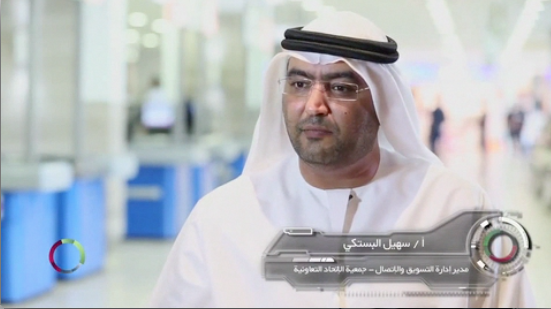 The Arabian Media Network has executed and broadcasted an interactive television program, which monitor the turning steps of the UAE government towards a comprehensive smart government that keeps pace with the smart applications and its accessories. The presenter of the program initiated the interview with an introduction on the guest of the episode. Because he is known in the media circles as the writer, lecturer and coach, then introducing him would be difficult. The interview with Mr. Suhail Al Bastaki marketing and communication department manager at Union Coop, and the episode focused on the latest developments reached by Union Cooperative Society.
Mr. / Suhail Al Bastaki marketing and communication department manager stated in his statement that:
The objective of Union Cooperative Society since its inception is improving the status of the shareholders economically and socially as well as increasing the sales and returns to the shareholders and satisfying the customers of all tastes by taking into account the diversity of the displayed products in the galleries.
On the side of the community role, Union had put a visible positive imprint in all different sectors of the community and that the responsibility, which is adopted by the Society, surpassed the stage of the consumer satisfaction and headed towards pleasing the customer not by raising slogans but by making this imprint tangible in reality. And that by providing the needs and wishes of the customers. In order to reach this stage, the Society took two pivotal steps: The first, the establishment of a special section for the happiness of the staff based on the principle of the direct relation that lead to positive results in order to please the customers.
As a complement to the strategic objectives of Union Society and its role in the community which begins from controlling the costs very carefully to achieve the economic growth, sustainable in the profits and the development of services. In addition, keeping up with the latest technology, which is acquired through the standard visits and the comparisons conducted by a specialized team to scrutinize all the techniques of the different states, with taking into consideration the local customs and traditions as well as the Emirati values. Moreover, adopting the ideas that can be applied to access the service or the product that fit with our local conservative community.
---
---