In Dubai everything is smart … even shopping trolley!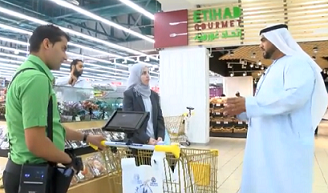 Union Coop Society in Dubai announced provision of "Smart Shopping Trolley" service in its branch in Umm Saqeim second Area as first smart Hyper Market of its type in emirate of Dubai. The Society launched this new service to enable the consumer to shop in a smart and modern style, since his / her moment of arrival and till completion of purchase process and accompanying him / her to his / her car.
Further, Mr. / Suhail Al Bastaki, Manager of Marketing & Communication Department, indicated in his speech : that the Society has exceeded the customer satisfaction phase, but also seeks to make the customer happy. When you enter the branch of Society, you can depend on a special employee, wearing a green uniform, to accompany you in different sections of Society to select your purchases, and put the same in bags, and then deliver them to your vehicle without a need to stand up in payment queue during peak times, which witness a wide great demand on the part of shoppers. This assures the role, which the Society plays to cope with and push up the development drive in such ways conformed to smart Dubai emirate principles.
Furthermore, Mr. / Mohammed Abbas, Manager of Smart Branch of Umm Saqeim, added that this service got big demand and approval on the part of audience to know the service and get benefits from its advantages, and the shopper can pay the invoice value in cash, or by credit card. This service is also rendered free of charge to the customers whose purchases exceed AED. 500, and the handicapped and elderly people as well, while it imposes fees amounting to AED. 25 to the shoppers not reaching the amount stated above.
---
---