MANSAF: A Traditional Jordanian Delicacy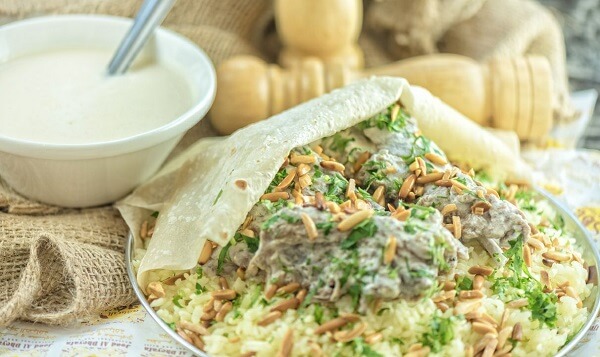 The literal meaning of 'Mansaf' is 'large dish' and it for all the delightful reasons is touted as the national dish of 'Jordan'. One can find Mansaf as a part of various social occasions such as engagement, weddings .etc. which is why it is considered to be a social bridge that unites the Jordanian society and highlights the Arab generosity.
Traditionally eaten collectively by hand, Mansaf is essentially Yogurt, Meat and Rice pilaf that is served in a single large platter.
Ingredients:
Jameed yoghurt
Large Lamb chops
Rice
1 Onion
Bay Leaf
Cardamom
Salt
Turmeric
Black Pepper
1 Tablespoon Butter
Parsley
Almond and pine nuts
How to cook?
In a medium pot, boil the lamb chops in water along with onion, salt, pepper, bay leaf and cardamom. Let the mix boil for an hour and a half approximately.
Simultaneously in a mixer, add Jameed Yoghurt, meat broth with a pinch of turmeric and egg to make a fine paste.
On a steady flame, we bring the Lamb Chops to boil while steadily stirring it. Add butter to the mix.
In a small pot, add butter and rice. Then add the salt, cardamom and turmeric. Wait until the rice is cooked, which will be about half an hour.
Place the cooked lamb in the Jameed mixture and garnish it with fried almonds, pine nuts and finely chopped parsley
Finally, put the rice and meat in a large plate, and add the parsley, almond and fried pine nuts to it.
"Wishing health and wellness for you…"