Fresh Vs Frozen – Who Wins?
People who are fans of 'farm fresh' or handpicked local produce will swear by the crunch of their cauliflowers and the not-at-all mushy mushrooms. Even if you have to shell out a bit extra, you simply cannot deny the taste that fresh produces have to offer and on the other hand, people who live by their grocery budget, frozen produce is the second best go-to solution for them. This blog will try to answer a natural question – Is Frozen produce better than Fresh?
Although compared to fresh produces, frozen vegetables and fruits may be tad-bit less in terms of taste and nutritional value, but they simply outweigh the former in terms of value-for-money factor.
Thanks to Clarence Birdseye, vegetables that are flash-frozen right after harvesting might have a nutritious value same as a fresh vegetable. Therefore, if you do not like to step out every now and then to shop for fresh vegetables, a frozen section is your solution.
The third dimension to this discussion can be – fresh and frozen cannot be compared to one another since each serves a different consumer-set and a different purpose. Fresh is best for the ones who pay attention to nutritional value, have a thing for taste and have easy accessibility to farm produces as well.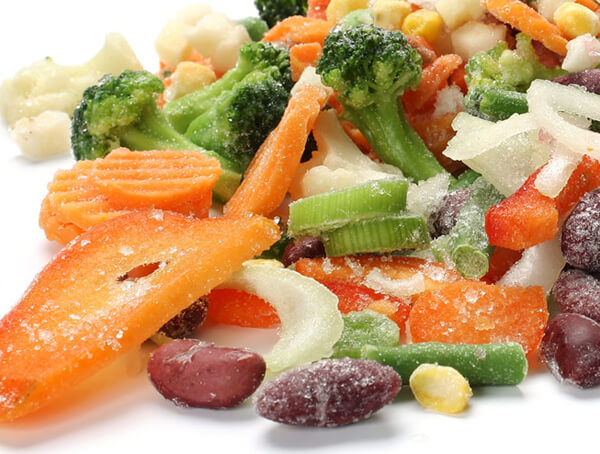 On the other hand, frozen items serve entirely different types of consumers who are willing to take a minimal risk of buying something which is not available locally due to geographical and climatic limitations. Then there are people who prefer using certain fruits or veggies items in small quantities, which is why frozen packages help them in using as per their convenience without worrying about shelf life issues. Moreover, hypermarkets have exciting deals on frozen items most of the time, which helps the consumer in saving a lot of money from their respective grocery budget.
If you believe in the notion that frozen vegetables are a poor substitute for fresh ones because of low nutritional value then there's more to this story because the nutritional value of fresh produce depends on multiple factors.
Here are some major factors that affect the quality of fresh produces:
·        Food Enzymes
·        Ways they are handled after being plucked
·        Immunity from insects, rodents and other factors
·        Temperature and Climatic conditions – Moisture, dryness .etc.
·        Light
"Sometimes you just can't beat Chemistry…"
Modern hypermarkets like Union Coop have formulated a stringent procedure which includes strict quality checks and ensures that all the quality parameters are covered when it comes to fresh stock.
Are frozen vegetables healthy?
Experts advise that it is better to eat organic, fresh vegetables that are at the peak of ripeness, which is when their nutritional level is at the highest. Now, this is possible when you live near a farm that sells seasonal produce or you grow your own food. In such cases, frozen items are your best bet, especially in cases of off-season vegetables.
According to DrWeil, frozen vegetables in some cases might be of higher nutritional value than fresh ones, especially the ones that have been shipped long distance. As mentioned earlier, fresh vegetables start losing nutritional value after a certain time interval. For instance – Fresh vegetable such as spinach loses around half the folate after eight days of being picked and so does the Vitamins and Minerals if the spinach is exposed to extreme light and heat.
The benefit of choosing frozen fruits or vegetable is that – most of the time they are picked when they are ripe, after which they are blanched in hot water to sterilize them and stop the enzymes from spoiling the food. In the end, they are flash frozen, which helps in preserving or rather we should say 'locking' the nutrients. However, chopped, crushed and peeled vegetables will comparatively be less nutritious.
Bottom Line– Choosing between fresh and frozen is like choosing between Apples and Oranges, as both are good and in the end, it's a matter of choice. If you have access to fresh fruits and vegetables… go for it. If not, then frozen is not a bad choice either!