Union Coop with General Directorate of Residency and Foreigners Affairs Dubai and DHA make 100 Newborns Smile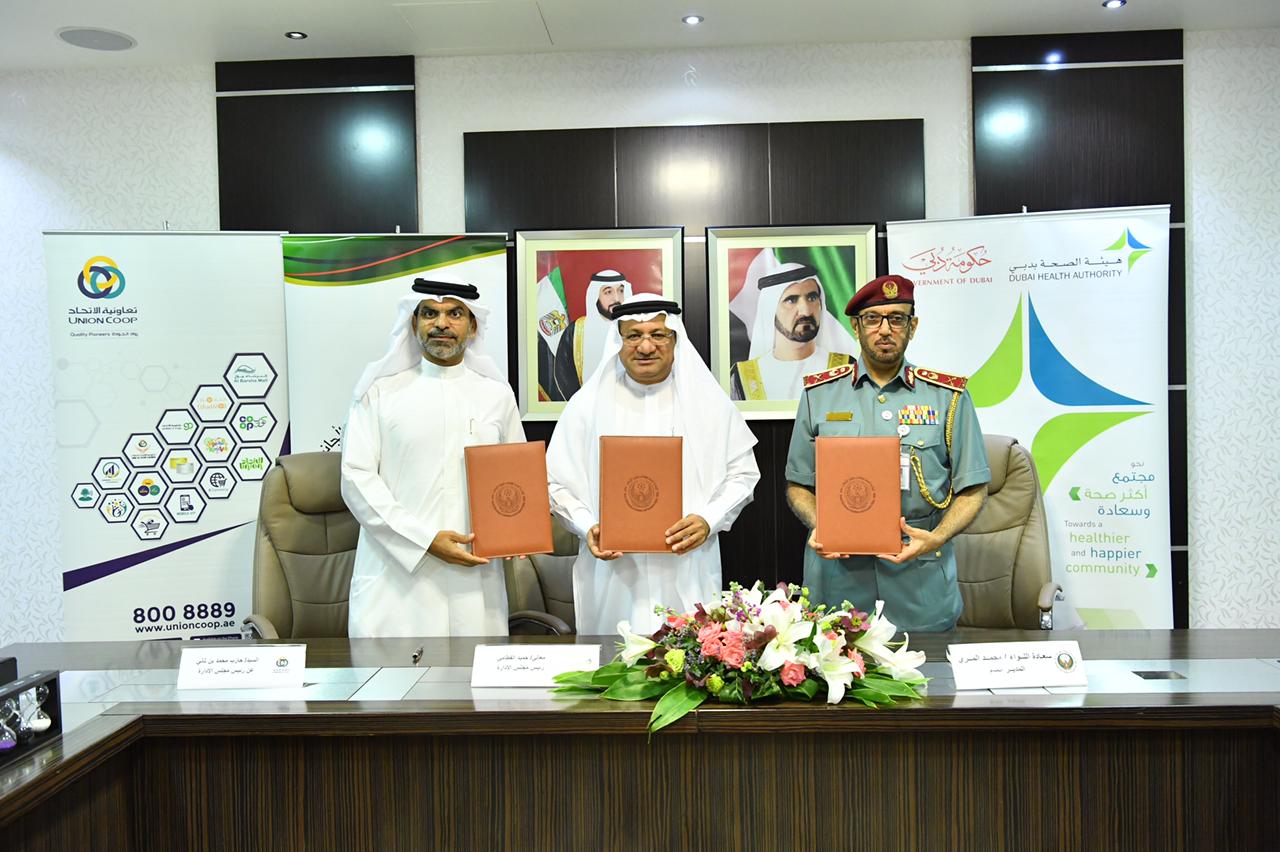 Prepared By: Benoi Nair
Photographer : Sultan Almarzooqi
April 5, 2018  – Dubai, UAE
Collaboration between General Directorate of Residency and Foreigners Affairs Dubai, Dubai Health Authority and Union Coop
General Directorate of Residency and Foreigners Affairs Dubai signed a Memorandum of Understanding with Dubai Health Authority and Union Coop – UAE's Largest Consumer Coop, to offer financial aid to 100 infants born at Latifa Women and Children Hospital. This kind move falls in line with the year of Zayed initiatives, dedicated to 'the late Sheikh Zayed bin Sultan Al Nahyan (may God rest his soul)'.
The MoU was signed by His Excellency Humaid Al Qutami, Chairman of the Board and Director-General of the Dubai Health Authority (DHA), Major General Mohammed Ahmed Al Marri Director General, GDRFA Dubai, and Mr. Hareb Mohammed Bin Thani, Director of Operations division – Union Coop. Also present were Brigadier General Ahmed Al Muhairi, Asst. General Manager, Colonel Ali Shaaban, Deputy Assistant Director-General for Registration and Travel Documents, and a number of other officials from both sides.
This agreement will provide 100 Newborns with 'Happy Birth' purchase cards worth AED 3000, which is also a part of the 'Happiness Package' launched in 2016 by GDRFA Dubai in cooperation with Dubai Health Authority. This will be a part of complete service package for newborns, which includes issuance of birth certificates, adding the newborn to the Family book, and issuance of passport. This initiative works towards spreading happiness among citizens while facilitating the procedure in the best possible way.
Speaking about the kind initiative, HE Humaid Al Qutami said, "Dubai Health Authority is committed to implementing a rich agenda of unique initiatives and creative ideas to celebrate the Year of Zayed. The current move to support 100 newborns in Latifa hospital reflects the excellence of communication between institutions to make this national event a great success."
HE Major General Mohammed Ahmed Al Marri Director General, GDRFA Dubai Said, "This Memorandum of Understanding was signed in conjunction with 'Year of Zayed' initiative, which pays tribute to the values of Late Sheikh Zayed bin Sultan Al Nahyan (may God rest his soul). We are very thankful for the leadership of H.H. Sheikh Khalifa bin Zayed Al Nahyan, President of the UAE and his brother rulers for engraving these principles and values in the hearts of every citizen and residents."
Speaking about the fruitful cooperation between the prestigious entities, H.E. Khalid Humaid Bin Diban Al Falasi, CEO of Union Coop said, "We're glad that our initiatives are launched in line with the Year of Zayed and we would like to take this opportunity for the advancement and upliftment of the community, which have a special place within the many core values of our work at Union Coop."
On Union Coop's coordination with General Directorate of Residency and Foreigners Affairs Dubai, Al Falasi said, "We're sure that the 'Birth of Happiness' initiative will sow seeds of happiness among the families of newborns in Dubai. Together we seek to work proactively in adopting and supporting the initiatives and community development programs organized by Government, Semi-Government and Public Service institutions in the emirate."
Al Falasi added, "These innovative ideas and initiatives are the result of genuine partnership between Union Coop and General Directorate of Residency and Foreigners Affairs Dubai. We aim to support our community members and fulfil the vision of our great government by making happiness a way of life and business approach as well."
---