Union Coop Trains 5 Students in the Field of Genetic Diseases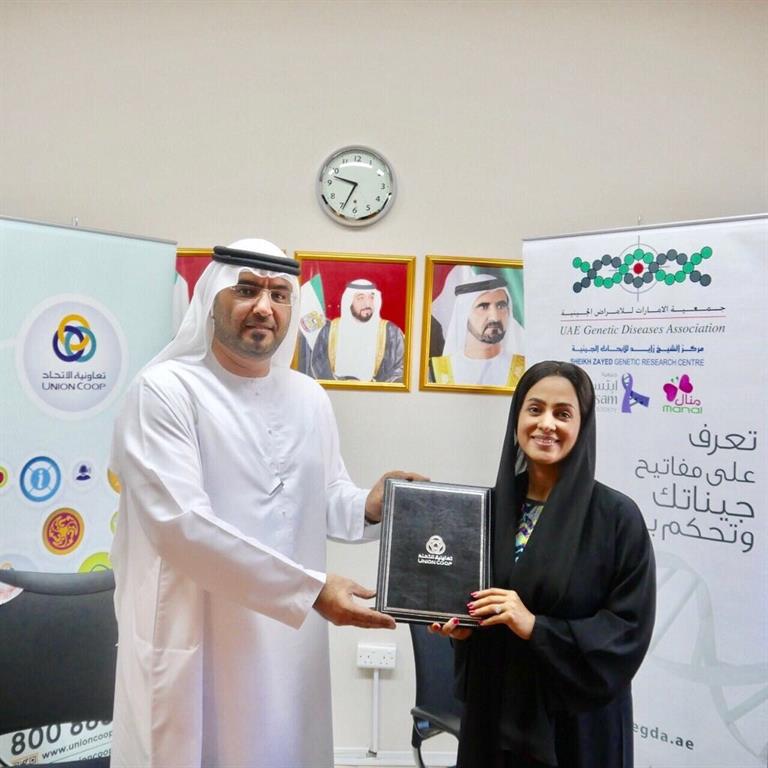 Prepared by Marwan Alquran
Photographer : Sultan Almarzooqi
UAE, Dubai, December 17, 2017:
Union Coop, the largest cooperative in the UAE, announced a project for training 5 students from universities and research institutions from around the world in the field of genetic diseases, as well as supporting Sheikh Zayed Laboratory for Research where the students will be trained, in addition to supporting the UAE Genetic Diseases Association with purchase cards.
This cooperation is outlined in the Memo of Understanding signed by Union Coop, represented by Suhail Al Bastaki, Director of Marketing and Happiness Department, and the UAE Genetic Diseases Association, represented by Dr. Maryam Matar, the founder and Executive Director of the Association.
For his part, Suhail Al Bastaki said that due to its commitment to supporting social responsibility, Union Coop has supported the UAE Genetic Diseases Association for the second year in a row to train university and research center students from around the world in the field of genetics and scientific research, which is part of the Coop's contribution to maintaining the Association's efforts for limiting genetic diseases with the goal of making the UAE free of this type of diseases.
For her part, Dr. Maryam Matar praised the efforts of Union Coop in contributing to the Association's efforts to limit the spread of hereditary and genetic diseases, saying that the Coop is a role model of national institutes that work hard to realize the vision of the leadership by supporting and carrying out high-quality and sustainable initiatives and programs with the goal of having future generations with better genes.
She added that this MoU will contribute to supporting innovative talents in the field of genetics, which should reflect positively on the Association's plans and noble goals it aims to achieve in the community.
---
---