Union Coop to Sponsor Initiatives of Dubai Astronomy Group (DAG)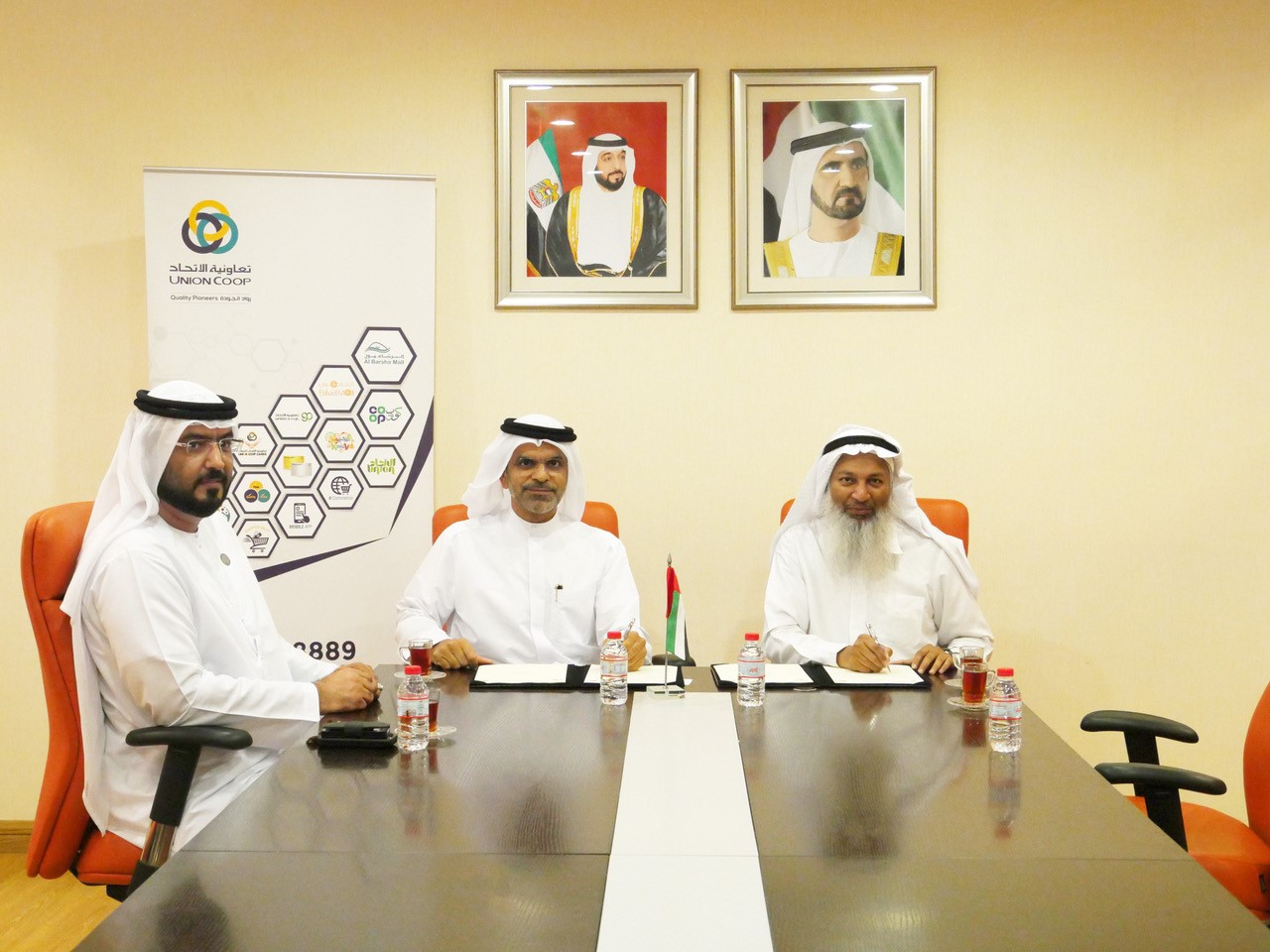 Prepared By: Benoi Nair
Photographer : Sultan Almarzooqi
Retail Pioneer 'Union Coop' signs an exclusive Memorandum of Understanding with Dubai Astronomy Group, committing to the sponsorship of the group's future projects and initiatives.
Dubai, UAE:
The Memorandum of Understanding was signed by Mr. Harib Mohammed Bin Thani, Director of Operations Division (Union Coop) and Mr. Hasan Al Hariri, Chief Executive Office (DAG), in the presence of Mr. Suhail Al Bastaki, Director of Happiness and Marketing Department (Union Coop) and numerous officials from both sides.
Sighting Union Coop's support to DAG, Mr. Harib Mohammed Bin Thani said, "Primary objective of this MoU is to contribute to the achievement of our nation's objective, which is aimed at establishing a strong and sustainable regional space sector. This move further helps us in protecting national interests, promoting vital sectors of our great nation and helps in the growth of our diverse economy by strengthening UAE specialized competencies."
"Our efforts will not only help in developing scientific and technical capabilities in individuals, but will also promote a unique culture of innovation that will solidify UAE's role globally. Union Coop as an entity is concerned with supporting all the sectors in line with our great leader's vision of UAE 2021, which aims at making UAE one of the best countries in the world by its Golden Jubilee and its 50th National Day. All institutions, organizations and individuals should work together as a team and unite their efforts and energies to stay ahead of time to achieve what is termed as 'impossible' by others," explained Bin Thani
About the MoU Mr. Hasan Al Hariri, Chief Executive Officer (DAG) said, "With Union Coop, DAG will work continuously to spread the culture of astronomy, refute superstitions with respect to the same, and create unique modes to communicate the information to the general public in an effective manner. In this very age of science and development, we wish to revive the original Islamic and Arab heritage with respect to astronomy."
He further pointed out, "Union Coop plays a great role in the distribution of knowledge and culture within the community, a trait shared by DAG as well. Union Coop with its unmatched services and community contributions has carved an image in the society, which nobody can match."
About Union Coop
UNION COOP is registered as a Consumer Cooperative in the Emirate of Dubai, by virtue of the Ministerial Resolution No. 2/31 dated on May 24, 1982, issued by the Ministry of Labor and Social Affairs. It is also registered with the federal authorities under No.12 in the records of the Cooperatives Department.
---
---