Union Coop Supports Dubai International Horse Fair and Careers UAE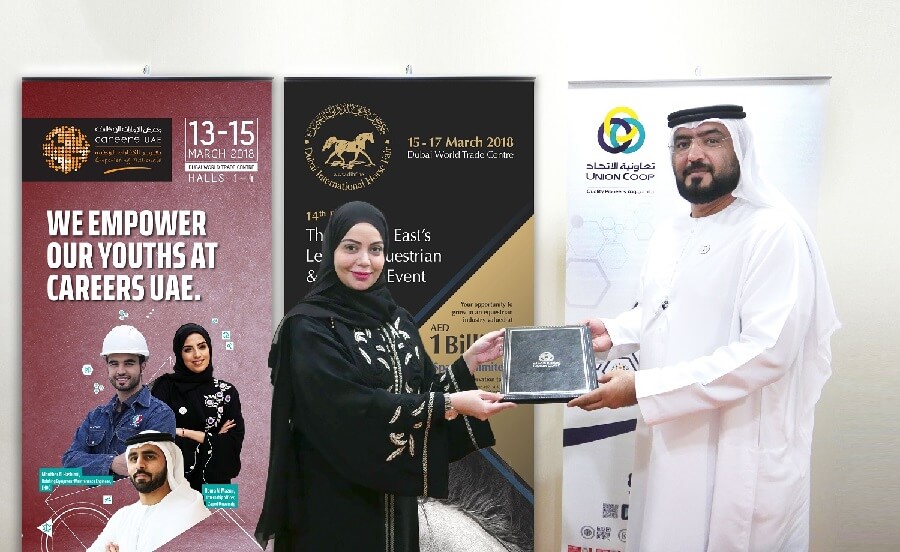 Prepared by Marwan Alquran
Photographer : Sultan Almarzooqi
UAE, Dubai, February 13, 2018:
Union Coop, the UAE's largest consumer cooperative, signed two memorandums of understanding with Dubai World Trade Centre, first one is to supporting Dubai International Horse Fair 2018, and the second for supporting Careers UAE 2018 fair. This comes in line with Union Coop's commitment to supporting premier activities and initiatives within the United Arab Emirates.
The MoUs were signed on behalf of Union Coop CEO by Mr. Suhail Al Bastaki, Director of Happiness and Marketing Department, and Dubai World Trade Centre in the presence of officials and employees from both sides.
For his part, Suhail Al Bastaki, Director of Happiness and Marketing Department, said: "These two memos seek to boost the partnership and cooperation between the public and private establishments, based upon the directives of His Highness Sheikh Mohammed bin Rashid Al Maktoum, Vice President and Prime Minister of the UAE and Ruler of Dubai, in order to achieve mutual interests and benefit society."
For her part, Asma Al Sharif, Portfolio Director – Exhibitions, DWTC said, "We are pleased to have Union Coop team up with and support Careers UAE and the Dubai International Horse Fair this year.
"We look forward to working with them on both upcoming events as they highlight key aspects important to the country: our pride in our people and workforce, and our pride in the equestrian heritage."
---
---