Ministry of Community Development and Union Coop Collaborate to carry out the Hydroponic agriculture Project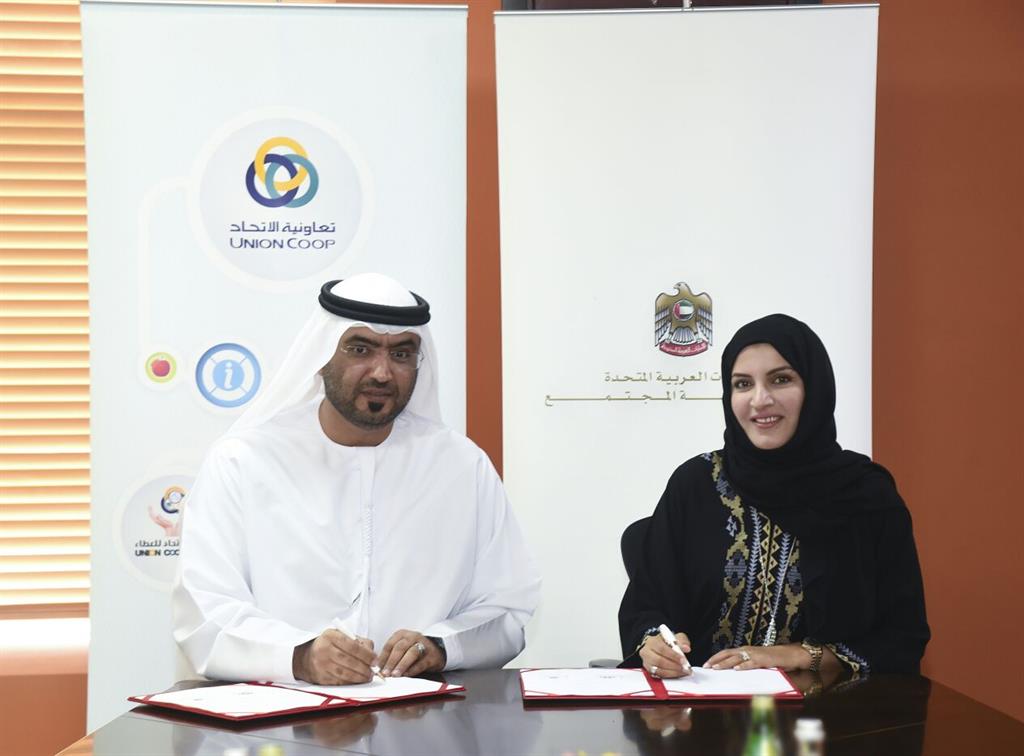 The Ministry of Community Development signed a memorandum of understanding with Union Coop, the largest cooperative in the UAE, to support the Hydroponic agriculture Project. The project aims at developing the capacities and skills of people of determination in project management and applied life skills, achieving their independence, and boosting their self-esteem, in addition to empowering and incorporating them in the society. The project also helps create an ecosystem of knowledge, intellect, values, and behavior that contributes to community development.
The MoU was signed by Ayesha Al Darbi, Manager of the Dubai Rehabilitation Center for People of Determination at the Ministry of Community Development, and Suhail Al Bastaki, Director of the Happiness and Marketing Department, on behalf of CEO of Union Coop, in the presence of officials from both sides.
Ayesha Al Darbi said that the Hydroponic agriculture Project will help train and employ people of determination who are above 18 years of age, catering to 35 of people of determination who are capable and qualified for training and employment. The Project's initial stage will include two greenhouses based in Dubai Rehabilitation Center for People of Determination at the ministry of community development.
The Project is also a unique and ample opportunity for people of determination above the age of 18 who graduated from care and rehabilitation centers, allowing them to receive training and employment in the Project, in addition to training them in how products are displayed and marketed at Union Coop.
"We thank Union Coop for its initiative that bolsters its role as a partner in community development and its commitment to raising the level of rehabilitation and employment of people with determination, which shows the level of awareness among various establishments about their role in social responsibility," Al Darbi added.
For his part, Suhail Al Bastaki said "Union Coop has presented financial support for the Ministry to enable building two Greenhouses as part of the Hydroponic agriculture Project, in addition to purchasing all the Crops of the Project and selling them via Union Coop's retail outlets for three years. This shows Union Coop's commitment to the success of the project and providing its logistic and marketing requirements. It also expresses its commitment to boosting social responsibility by supporting the programs and projects of governmental, semi-governmental, and public benefit establishments in Dubai as well as local human and social care programs.
The Hydroponic agriculture Project contributes to supporting the national policy to empower people of determination in the field of "Vocational Rehabilitation and Employment" which seeks to provide Vocational Rehabilitation programs to suit people of determination of various types and degrees of disabilities. This is carried out by developing Vocational Rehabilitation programs to match the demands of the job market and launch programs to provide vocational certificates for people of determination in cooperation with various governmental and private parties.
The Vocational Rehabilitation and Employment policy helps provide work opportunities for people of determination that match their abilities and levels of disability by implementing policies to support their employment in governmental and private sectors. It also provides a comprehensive database for people of determination seeking Vocational Rehabilitation and employment. It also establishes for a communication channels between governmental and private sectors for supporting their employment, while also building partnerships with micro-projects finance houses, and marketing their products.
---
---