Dubai Economy honours 17 retailers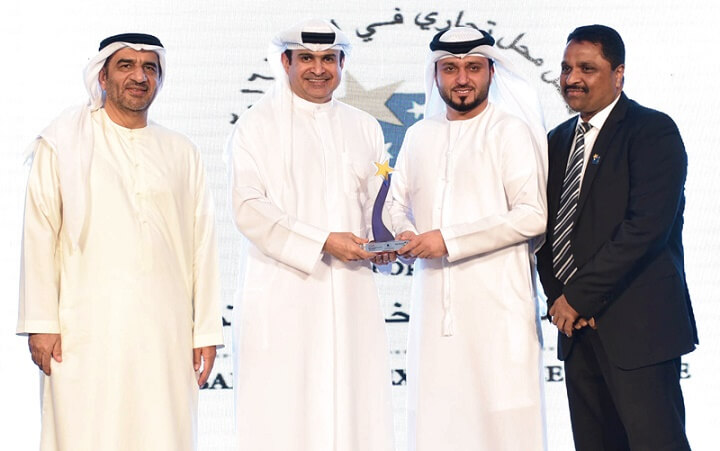 Dubai Economy today honoured 17 retail outlets in the Dubai Service Excellence Scheme (DSES), for their efforts and achievements in improving customer service quality as well as commitment to ethical business practices during 2016 cycle of assessment. The winners were selected from more than 2,000 members enrolled in DSES and Dubai Economy honoured them as part of its efforts to enhance competitiveness, diversity and quality of services offered to customers in the emirate's retail sector and to promote excellence across vital sectors.
The 17 winners came from such varied retail segments as optics, fashion, retail, money exchange, restaurants, cafes, jewellery, automobile, footwear, furniture, electronics, pharmacies, banking and travel services.
The winners who received the Best Service Performance Outlet Award from His Excellency Sami Al Qamzi, Director General, Dubai Economy, were: Arabian Automobiles Company – Nissan Deira Showroom (Automobile Showroom category); Coldstone Creamery – Fujairah City Centre (Café); Carters – Arabian Centre (Clothing); Axiom – Ibn Batuta (Electronics); TOMS – Marina Mall (Footwear); Marina Home Interiors – JBR (Furniture); THEFACESHOP – Bawabat Al Sharq Abu Dhabi (General Retail); Damas – Madinat Zayed 2 Gold Centre (Jewellery); Vox Cinemas – Mall of the Emirates (Leisure & Entertainment); UAE Exchange – RAK Umm Al Quwain Road (Money Exchange Services); Al Jaber Optical – The Walk JBR (Opticals); ASTER Warqa 2 Pharmacy (Pharmacy); India Palace – Dalma Mall (Restaurant); aafaq Islamic Finance – Dubai Economy Al Barsha Mall Branch, Dubai (Services); HRG – Dubai Internet City Branch (Travel Services); Dubai Islamic Bank – Dubai Mall Branch (Banking Services); Union Co-operative Society – Al Twar (Hypermarket).
"The Dubai Service Excellence Scheme is a reflection of our determination to continue the process of development and in a spirit of initiative and innovation, and to be the most outstanding of all our workplaces," said Sami Al Qamzi. "Dubai Economy is proud to be the first government entity that sought to spread the culture of quality and excellence among private institutions and businesses to match the working environment in Dubai to the best in the world."
Al Qamzi congratulated the DSES winners for their efforts in developing their services and upgrading them to a level worthy of the status and prestige of Dubai, which he said is no less than any other destination in the world. He also called for innovations in business development and customer service as well as for adopting best practices in the retail and services sectors in Dubai and the UAE.
A unique initiative in the region to gain customer confidence and make shopping in Dubai a pleasant experience for the buyer, DSES seeks to maintain Dubai's leadership in applying best business practices through the commitment of DSES members to a code of ethics that ensures customer confidence.
---
---