Golden Jubilee 100 Days Celebration in Union Coop
>
>
Golden Jubilee 100 Days Celebration in Union Coop
UAE 50th National Day (Golden Jubilee 100 Days Celebration in Union Coop )
Date
Promotion will start from 10th November 2021 for 100 days.
1. On every AED 200 spent customer will be entitled to get a e-raffle coupon.
2. E Raffle draw will be held every day and 2 Winners will be announced daily for straight 100 days.
3. People who were born in December 1971 ( Dubai Citizens & Dubai Expats) will get AED 500 Al Afdhal card. They have to visit Etihad Mall CSR Section to register.
4. There will be no physical coupon, customer will receive notification on their mobile ( Next Day).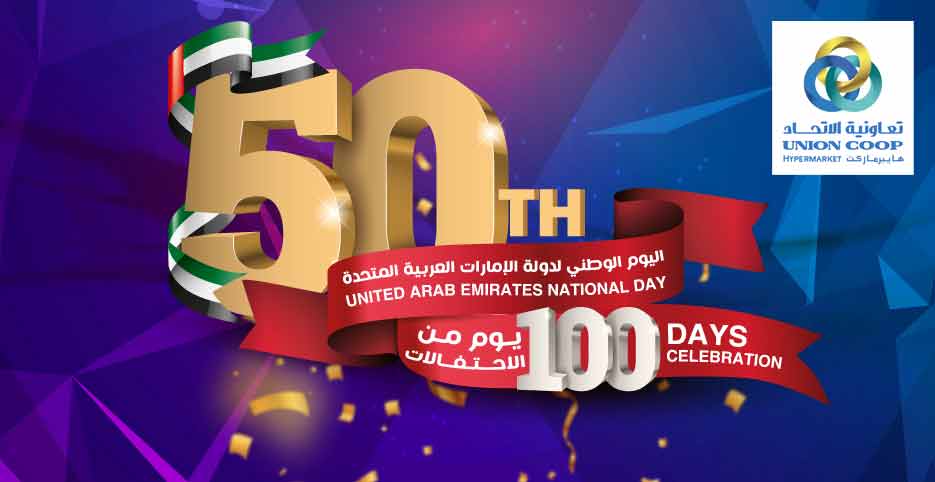 Terms & Conditions
This promotion is valid from 10th November 2021 for 100 days.
Customers are entitled to receive one raffle coupon on the purchase of AED 200.
Raffle draw will be held daily and 2 winners will be announced every day.
The winner will be notified on the telephone number registered in Tamayaz card. Coupon Notification will only be sent to customers who have downloaded Union Coop Mob App
5. All prizes to be collected within 60 days of the announcement of the winner.
In case a fraudulent transaction is suspected, Union Coop reserves the right to deny the prize to a winner.
7. Participation in the raffle draw constitutes permission for Union Coop to use the participant's personal information that is provided for publication and marketing purposes, without any liability whatsoever attributable to Union Coop.
The decision of Union Coop on all aspects will be final and binding. No Queries or claims will be entertained.
9. For more details call at our toll free number 8008889
1971 Promotion Eligibility: For Citizens: The passport must be issued by Dubai and For Expats: They must be born in the Emirate of Dubai + Residence permit "Visa" issued by Dubai.
1971 Promotion Eligibility: Only Citizens & Expats born in December 1971 are eligible.
All the registered " Tamayaz" customers are entitled for E- Raffle draw.