Union Coop Declares AED 466 Million Profit for Fiscal Year 2018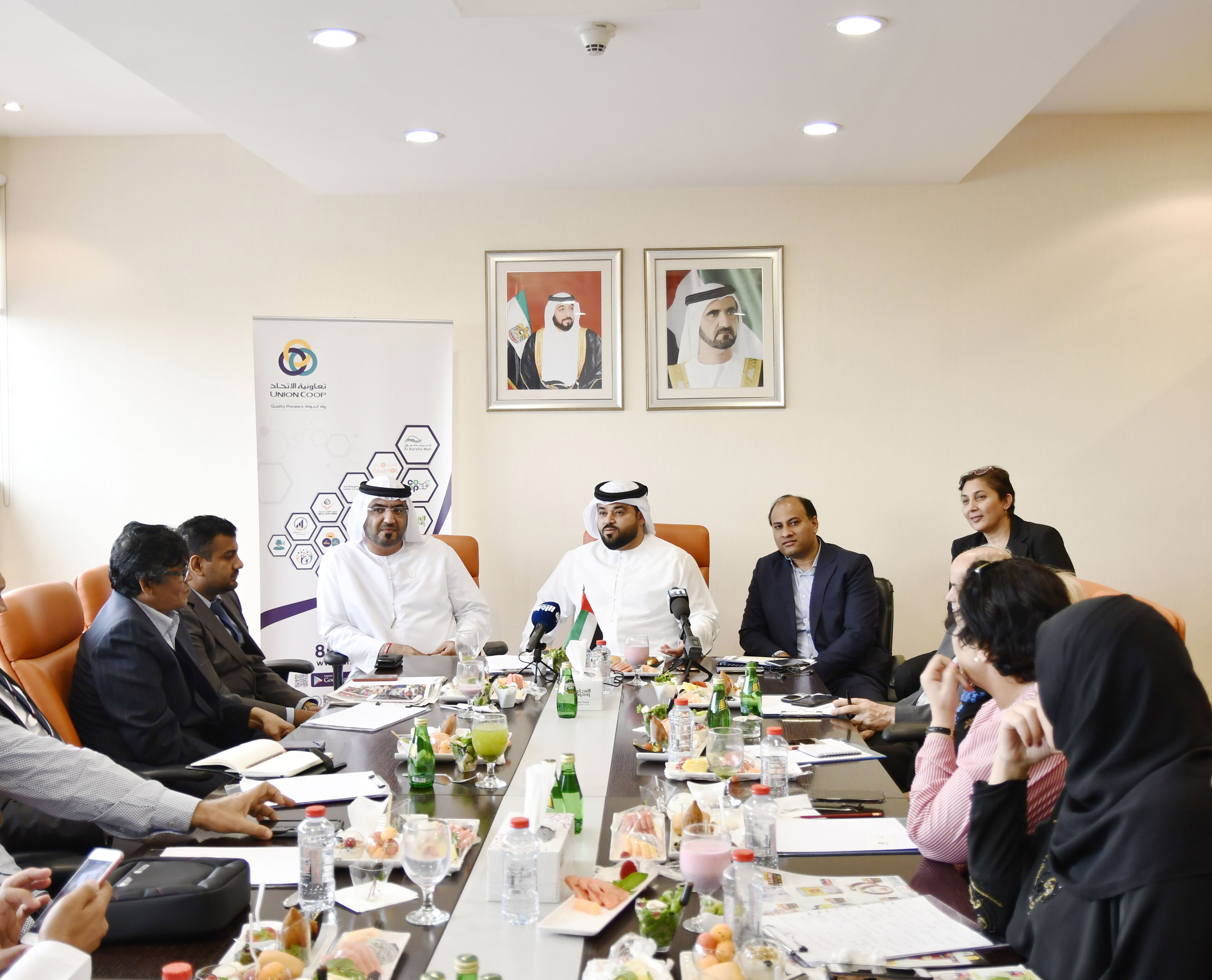 Prepared by: Benoi Nair
Photographer: Sultan Almarzooqi
Chief executive officer:
We have begun to sue brokers, rumour makers and private "WhatsApp" groups

The News regarding Union Cooperative's Share price is nothing but tendentious rumours   

Digital Shift will eliminate the role of brokers and regulate the share price, connect it to the financial performance of the organization
Dubai, UAE:
Union Coop, UAE's largest Consumer Cooperative expected its financial results for the year 2018 with total revenue of AED 2.8 billion and a sales of AED 2.3 billion, thereby registering a net profit of AED 466.3 million. The tremendous figures justify the strong financial performance of Union Coop in the highly competitive retail market.
H.E. Khalid Humaid Bin Diban Al Falasi, CEO of Union Coop said, "Despite the challenges faced by the retail trade sector, Union Coop has maintained its dominant position in the market by adhering and complying with best international standards and adapting them to suit the local culture of our country in general and the Emirate of Dubai in particular,"
He points out to the fact that the movement of the market and its trends affects the retail sector in any country like every other sector.
He stressed that "The financial results for 2018 revealed by Union Coop presented the real financial position, strength and solidarity, despite the high level of competition in the market and frequent shifts, Union Coop managed to maintain its leading position in the retail market as well as a major competitor within."
Dismissing all rumors, Al Falasi mentions, "The rumours being promoted through unverified sources of private WhatsApp groups and brokers are intended to damage Union Coop and shareholders who are UAE Citizen by trying to negatively influence a large pioneering National organization of Union Coop's size that contributes towards building a sustainable economy for the future generations."
CEO noted that "Union Coop is reassuring and pretty confident that what is going on behind closed doors, is aimed at harming the shareholders, is nothing but a whirlwind in a cup that will disappear soon enough. Additionally, Union Coop has begun to prosecute brokers, rumor makers and WhatsApp private groups. Union Coop Board of Directors and Management totally rejects any kind of infringement to shareholder interest."
Al Falasi further appealed to the shareholders not to listen to these rumours and to maintain their confidence in Union Coop's performance. He supported his statement by pointing out that shareholders' equity amounted to AED 2.84 billion, an increase of AED 329.2 million compared to 2017. A total number of Union Coop shareholders reached 33, 527 by the end of 2018, with an increase of 2,604 shareholders compared to the year 2017, with a growth rate of 8.4 per cent.
In a similar context, the CEO said, "Union Coop works together with other important entities and organizations to provide social benefits for the community members. In 2018, we spent about AED 41.4 Million on community contributions and Shareholder Happiness programs, while providing financial and moral support to 64 organizations in various fields, thereby enhancing shareholders' confidence in Union Coop's performance and future.
He further adds, "Union Coop is witnessing a major expansion through its implementation of many projects, classified under the categories of – the ones' that are under construction and the others which are at the planning stage, with 17 projects of which are branches and malls."
"The share price of any company in the world is tied to its financial performance, and the step to move towards electronic trading will regulate Union Coop's share performance, which is in the interest of shareholders and provide them with the convenience and security in trading through an electronic platform to achieve centralization of trading, which will also provide a transparent price to all, based on supply and demand equation of the market".
"There is no intention to list the Union Coop's shares on the Dubai Stock Exchange, and the step taken regarding the digitization and updating shareholders' data is just a process of work developing the trading process according to the latest digital insights in the financial markets," he said, praising the shareholders who updated their data, and appealing to those who did not, as the same is necessary to stop the manipulation of brokers and fasten the digitization process."
---
---