Union Coop Declares "26.5 % Growth in Net Profit for First Quarter 2019"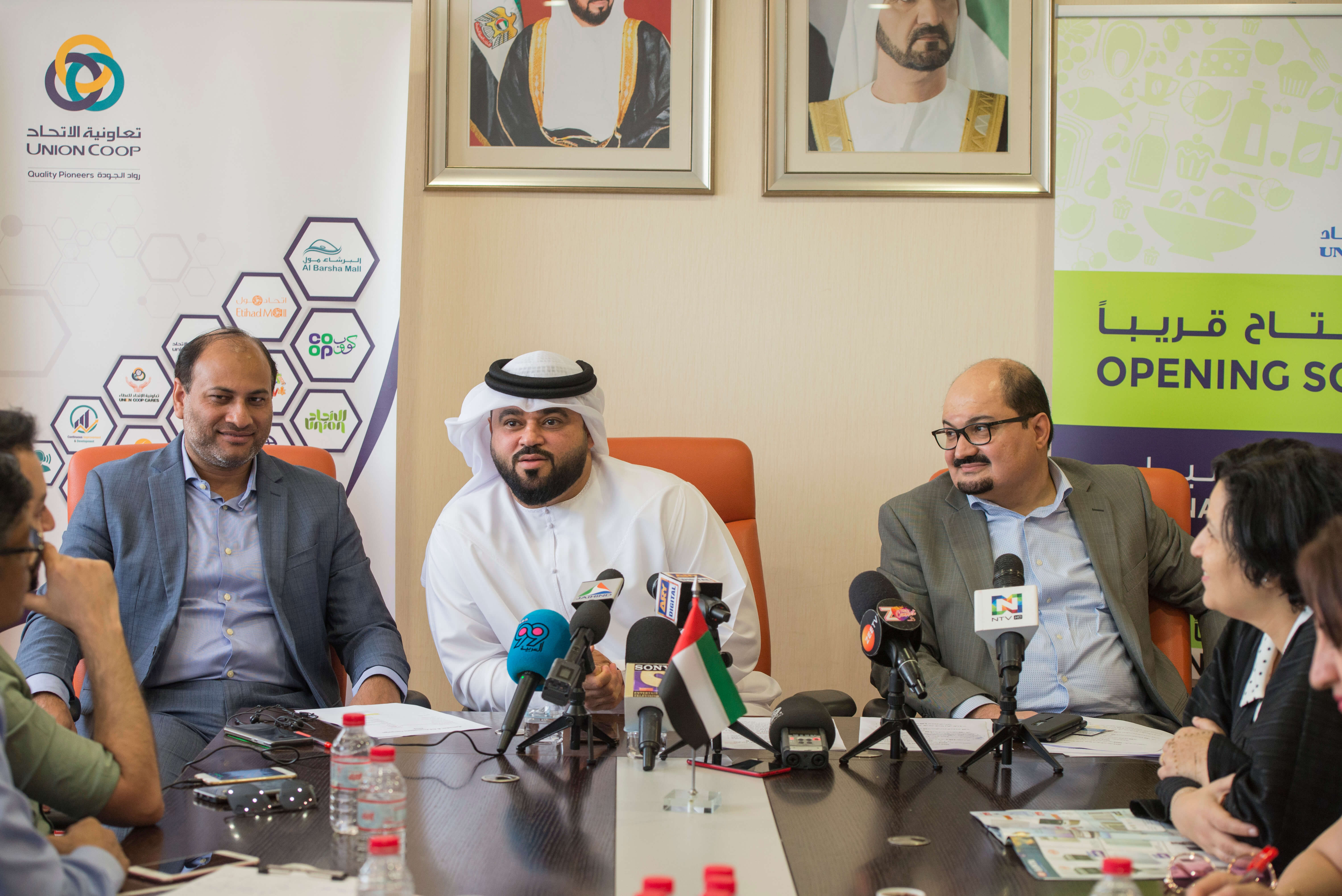 Prepared by: Benoi Nair
Photographer: Sultan Almarzooqi
AED 138.5 Million the Net Profit for the first quarter of 2019
AED 110 Million allocated for price reductions for the holy month Ramadan
Expected sale to be 70 Million Units/products during 60 days of promotion
AED 650 Million expected sales during Ramadan campaigns
5 Million Beneficiaries expected during the Ramadan Campaigns
Discount up to 90% on more than 25, 000 products this Ramadan
VAT Free shopping on advertised products as a part of Ramadan Happy Deals
New Branch opening in the Nad Al Sheba area this month
UAE, Dubai:
Union Coop, the largest Consumer Cooperative in the UAE reported a 26.5% increase in net profit for the first quarter of 2019, compared to the same period on the previous year, with an increase of AED 28.8 Million. The first quarter of 2019 saw a net profit AED 138.5 Million, compared to AED 109.7 Million of 2018. It also revealed that it has allocated AED 110 Million towards price reduction of more than 25,000 basic food, non-food and consumer goods during the holy month of Ramadan, along with several socio-economic initiatives aimed at delighting the community members as well as relieving the burden on consumers.
The announcement came during the annual conference of Union Coop, discussing the preparations for the month of Ramadan 2019, in the presence of H.E. Khalid Humaid Bin Diban Al Falasi, CEO of Union Coop, Mr. Majiruddin Khan, Assistant Director of Trading Division, Mr. Imad Rashid, Media Section Manager and representatives of media.
During the conference, Al Falasi said, "Union Coop achieved a net profit of AED 138.5 Million for the first quarter of 2019, with a monumental net profit improvement of 26.5% compared to the same period of the previous year regardless of the decrease in the prices of the products by 7.5%. This is due to the increase in promotion campaigns released by Union Coop in Q1 2019, which we intend to intensify in the second quarter, thereby improving the happiness quotient of National and Resident Consumers alike. We have planned ten (10) promotional campaigns extend to 60-days to provide Basic consumer goods with discounts up to 90% on 25,000 food and non-food products, allocating AED 110 Million for that purpose. We expect a sale of AED 650 Million through 70 Million sold products during the 60 days of Ramadan Promotion. We expect at least 2.5 Million consumers to be benefitted during the Ramadan period with these Ramadan Promotions. Moreover, consumers will be able to enjoy VAT FREE shopping as a part of Ramadan Happy Deals, on advertised products only."
"All the campaigns take into account the cultural diversity of the UAE and include a variety of products that meet the needs of all the communities, thereby reducing the burden on consumers by providing the best quality products at competitive prices. Products include basic food and non-food including rice, meat, poultry, canned food, fruits and vegetables, detergents, plastic products, cosmetics, home appliances, electronics, Ramadan speciality products and other products."
Outstanding Performance
"The NET PROFIT of both Commercial centres and the Branches grew by 38% and 25% consecutively, while the Gross Revenues grew by 3.5% in Q1 of 2019, compared to Q1 of the previous year. Such performance is considered to be the best ever in its 37 years of its history, thereby cementing our position as a key player in the retail market of Dubai, UAE and enhancing Dubai's image as a competitive retail market, compared to the retail sectors of the neighbouring markets.
"We congratulate our wise government and our valued shareholders on this outstanding performance and expect similar or better results during the second quarter of this year, which will be announced in July," added Al Falasi.
Sufficient Quantities
Al Falasi said: "Union Coop has signed agreements with the suppliers to ensure the availability of sufficient quantities of basic food and non-food items during the holy month of Ramadan to facilitate the needs of the community. For sure the shoppers need not fear the shortage of any product during Ramadan campaign as we have deployed 24-hour/ 7 days a week Supplier delivery and special space arrangements to accommodate extra stock. Pre-booking of stocks from suppliers have also been considered to confirm ready availability. Our Union Coop branches at Umm Suqeim, Al Wasl and Al Twar are operating 24 hours as a part of Ramadan special arrangement, so as to allow our Consumers to enjoy their Ramadan shopping irrespective of any time frame and avoid the crowd or even long queue. Rest of the branches will operate from 6.30 AM to 2.00 AM to enable shoppers to plan their shopping at any time they seem fit."
New branch and Prospective Investment
Talking about the new branch and prospective investment opportunities, Al Falasi said, "We are pleased to announce the opening of Nad Al Sheba branch within few days as a part of Union Coop's expansion strategy to spread throughout Dubai to provide its service to the consumers. In addition to Union Coop Hypermarket, the branch will also include many shops, kiosks, banks, ATMs, restaurants, cafes, salons and more. On another hand, we are studying new investment opportunities available to penetrate the Abu Dhabi market, where we plan to operate new branches in the future."
Shopping made easy with Union Coop Web Store
In order to make Ramadan products more accessible to consumers, Union Coop E-commerce web store has been listed with more than 22, 000 food and non-food items that shoppers can purchase online and avail home-delivery. Online shoppers will be able to enjoy exclusive promotions along with original Ramadan offers and can redeem additional benefits by using their Tamayaz Loyalty cards.
Smart application and Shopper-Valet Service
Union Coop also offers a variety of benefits through its smart application, including the creation of shopping list in advance, access to the consumer's list of purchases, receipt of offers and deals, account details access and many more. The premier 'shopper-valet' service is also available in a number of Union Coop branches, which allows the Consumer to shop easily with the help of a specialist assisting with the shopping cart and the billing is done instantly without the need of standing in the payment queue.
---
---