>
>
>
>
Ghala program 2018
Ghala program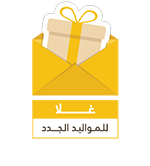 Ghala – for Newborns
This program was allocated to the newborns for shareholders during the year 2018. The families of newborns were given purchase cards worth AED 400 per month for 6 months. 700 children were registered under the program and were issued purchase cards. The authorized numbers were achieved during the period from 01/05/2018 until 30/09/2018.
Terms of Registration:
The Shareholder should be having a Child during that particular tenure of the program.
Shareholder who has more than one child in the same time-period is entitled to enrol in the program wherein he will be issued a card for each child
Registration will remain open for Child born in December until 20th of January of the following year, if required number of members are not met.
Documents Required:
Identity of the Shareholder + Identity of the Applicant (If both are not the same)
Birth Certificate of the Child (Mentioning Name and Details of both Child and Parents)