Union Coop Wins 'Middle East E-Commerce Excellence Award 2020'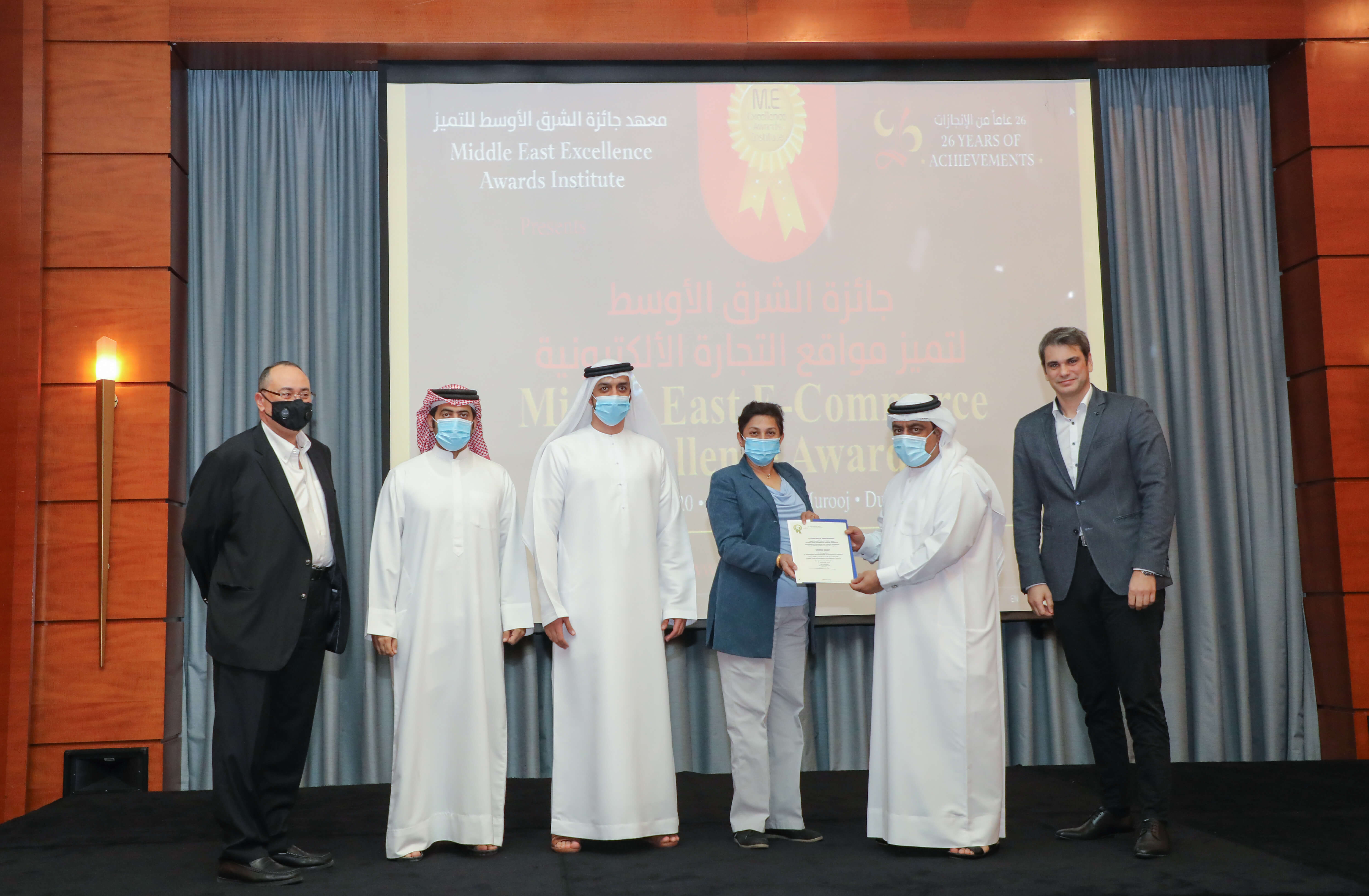 Prepared By: Benoi Nair
Photographer: Saeed Ali Kahail
Retail Pioneer's support in the development of comprehensive e-commerce and business e-Transformation and constructive technical efforts towards e-Shopping solutions was recognized and honored 
Dubai, UAE:
The Middle East Excellence Awards Institute recognized Union Coop's support in the development of comprehensive e-commerce platform and business e-Transformation and constructive technical efforts towards dynamic e-Shopping solutions that have contributed in raising the level of the region's E-Commerce capabilities.
Representing Union Coop to receive the honors were – Mrs. Priya Chopra – Director of Strategy, Innovation & Corporate Development Dept., Mr. Shuaib Al Hammadi, Senior Marketing & Media Section Manager, and Mr. Humaid AlZaabi, E-Commerce Section Manager.
Talking about Union Coop's latest achievement, Mrs. Priya Chopra said: – "Our business focus has always been multi-faceted, especially when it comes to consumers. We want our services to reach consumers in more than one way so that they are happy. This strategy played a key role in the current situation wherein Union Coop not only was one of the first entities to adapt anti-corona measures but also provided consumers with more than one way to shop stress-free i.e. without worrying about their daily needs. Even during the starting phase of the corona pandemic, Union Coop was quick enough to ensure that consumers can enjoy the same physical experience while shopping through the web store and the necessary safety protocols are followed especially in terms of home delivery facilities."
Earlier in May, Union Coop raised the number of employees working in the online store to more than 500 people. This number included employees of the E-Commerce Section, delivery services and logistical support like Noon, El Grocer, Dukkaani, Instashop, Masar, ATC, Swan, Dubai Taxi, Infiniti, New Heights and ADCO.
Giving his take on the need for the moment was Dr. Suhail Al Bastaki, The Director of Happiness & Marketing Dept. at Union Coop: – "Given the wide-scale of technological development, challenges to organizations is much more than just business targets but to establish a much collaborative outlook that takes care of the present times and helps them prepare for the future as well. Modern innovations, comprehensive IT advancements and above all a smarter business future transformation should be the key focus of businesses who want to take care of their valuable consumers. Union Coop as a national entity has always kept the vision of our wise leaders concerning our global economy and the happiness of our shareholders and consumers a top priority."
The Middle East Excellence Awards Institute recognizes the achievements of e-commerce and e-Payment solutions organizations and leading institutions that have supported national business and investment organizations in developing e-commerce and e-payment solutions.
---